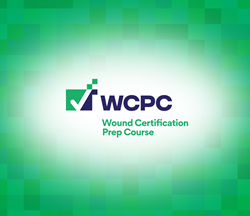 MALVERN, Pa. (PRWEB) July 30, 2019
The Wound Certification Prep Course (WCPC), a comprehensive training program owned and organized by HMP, a leader in healthcare events and education, announced today a collaboration with Quality Surgical Management (QSM) enabling their clinical team to undergo wound certification training through WCPC - putting them on the path to becoming Certified Wound Care Associates (CWCA®), Certified Wound Specialists (CWS®), and Certified Wound Specialist Physicians (CWSP®). QSM represents one of the few provider groups requiring nationally recognized certification as they continue to raise the standards of wound care.
"When Quality Surgical Management decided to have our providers pursue board certification through the American Board of Wound Management (ABWM), we knew there was only one review course recommended by the ABWM Foundation and the Symposium on Advanced Wound Care – The Wound Certification Prep Course," said Matthew Hardy, MD, CWSP, Medical Director. "WCPC's uncompromising pursuit of excellence mirrors our own motto at Quality Surgical Management: 'Quality Above All Else'."
WCPC is the most advanced, comprehensive course on wound management, and is available to practitioners via regional courses, or on-demand. This in-depth course is taught by a top-flight team of nationally recognized ABWM-certified wound care educators.
"We are pleased to work with Quality Surgical Management and recognize their commitment to raising the standards of quality healthcare and patient care within their facility as their drive to raise the standards in wound care underscores our mission to improve patient care," said Tiffney Oliver, Vice President, Wound Care. "As the only course recommended by the ABWM Foundation, we look forward to helping Quality Surgical Management clinicians get on the path to becoming certified in wound care."
WCPC was recently acknowledged by ABWM as the "recommended review course" for clinicians planning to take the CWS®, CWSP®, or CWCA®.
For more information about the Wound Certification Prep Course, visit woundprepcourse.com.
About QSM
Quality Surgical Management (QSM), headquartered in Hollywood, Florida, serves Skilled Nursing Facilities in Florida, Georgia, South Carolina, and North Carolina. Led by Dr. Steven Magilen, a General Surgeon and innovator in the field with over 20 years of extensive knowledge and experience in wound care, QSM is a team of providers committed to delivering outstanding quality-focused wound. QSM is pioneering a new leading-edge technology platform as well as continuing to provide the highest quality of care in wound management. Striving to maintain a tradition of friendly, compassionate, and caring practitioners, QSM focuses on hiring and training only the best.
About HMP
HMP is the force behind Healthcare Made Practical – and is a multichannel leader in health care events and education, with a mission to improve patient care. The company produces accredited medical education events and clinically relevant, evidence-based content for the global health care community across a range of therapeutic areas. Its brands include Consultant360, the year-round, award-winning platform relied upon by primary care providers and other specialists; Psych Congress, the largest independent mental health meeting in the U.S.; EMS World Expo, the largest EMS-dedicated event in the world; Rx Drug Abuse & Heroin Summit, the nation's leading meeting focused on addressing the opioid abuse epidemic; and the Symposium on Advanced Wound Care (SAWC), the largest wound care meeting in the world. For more information, visit hmpglobal.com.
Contacts:
Kelly McCurdy, Vice President, Marketing & Public Relations
HMP
610.560.0500 x4304
pr@hmpglobal.com
Dave Lotz, COO
QSM
(800) 226-8874
dave.lotz@qsm.org