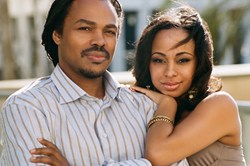 Making a film with an iPhone 5 allows the film to be driven by the riveting storyline and character development.
Los Angeles, California (PRWEB) July 24, 2013
The filmmaking duo are having an affair: on the traditional way of making movies that is Mr. and Mrs. Ross are pushing the boundaries on technology and marital woes in a groundbreaking
noir drama shot exclusively on the iPhone 5---using only natural light and a minimum crew.
THE AFFAIR is a sexy character-driven drama that explores the depth of sexuality, temptation, lust and human perceptions.
"The film is essentially an exploration of what we perceive true love to be, and what happens when your perception of that is fundamentally shattered," says writer/director Craig Ross Jr.
Caryn Ward Ross stars as Simone Waite, a woman on the verge of disaster in her marriage who meets a man who is at the end of his rope in his own marriage; and together they have an explosive, tumultuous affair that leaves their lives forever changed.
"I've never, ever portrayed a character like Simone, and this film is the most exciting and emotionally dangerous role for me to date," says Caryn Ward Ross.
"We knew this type of story would be very difficult to tell through traditional Hollywood channels, and as a filmmaker nothing excites me more than bringing this cinema verite' experience to light through digital elements that weren't available three years ago," says Craig Ross Jr.
The always-evolving nature of the technology used in making films has increased the capabilities and scope in which filmmakers can portray their visions and interpretations of the stories they tell. Making a film with an iPhone 5 as the only means of shooting is a testament to this, but also features a minimalist approach that allows the film to be driven by the riveting storyline and character development.
The stylized, experimental feature film will be shot over a 10-day period in Los Angeles, CA. A kickstarter campaign to fund the movie launches on July 23, 2013. "This is a passion project where we are looking for ultimate creative freedom, and a direct collaboration with our friends and audience seems like the perfect fit," added Mr. Ross. Visitors to the Kickstarter page can learn more about the film, connect with its social media pages and donate to the project.