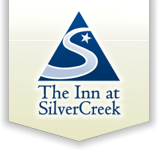 Granby, Colorado (PRWEB) December 15, 2014
With the holiday season in full swing, and the promise of a full winter season, Alderwood Resort Group knows that many travelers are planning long awaited winter getaways. Whether they are looking for a weekend retreat that will let them practice their skiing skills, a destination ripe with holiday fun, or a perfect spot to simply enjoy the refreshing beauty of New Year's snow, Granby, Colorado is an excellent choice. When visitors in Granby stay at The Inn at Silver Creek, they will be welcomed with luxury accommodations and amenities, as well as a plethora of amazing nearby activities and events that are varied enough to meet the needs of every traveler who comes along. For those who will be making the trip to Granby this season. Alderwood Resort Group recommends some fantastic local options for entertainment.
1. Go Ice Skating: From early December to mid-March, free ice skating lessons will be available on Fridays, Saturdays, and Sundays as long as the ice is thick enough. These lessons are great for all ages, especially young ones who want to hit the ice for the first time. These complimentary lessons have expert instructors that can help novice skaters of all ages get the hang of this winter tradition. The lessons even come with hot chocolate, so Alderwood Resort Group recommends grabbing some skates and joining in on the fun.
2. See Home for the Holidays: For art lovers, this event is a must. The Rocky Mountain Repertory Theatre will hold this show on December 20th for the whole family to enjoy. There will be a musical tribute as well as a free event that has a family movie night and a Santa visit for all of the kids to enjoy. A great piece of entertainment for families, Alderwood Resort Group recommends this musical performance for Granby visitors.
3. Visit the Kauffman House Museum: For those who want to enjoy the holiday spirit while also trying an interesting historical event, the holiday celebration that will be taking place at the Kauffman House Museum is a great choice. This event will include classic Christmas music, great food and company, and a warm holiday spirit. Alderwood Resort Group also wants visitors to know that the proceeds of the event all go to Cottage Camp.
Enjoying amazing seasonal events around Granby when staying at The Inn at Silver Creek is a wonderful way to create lasting memories of the season. The Alderwood Group encourages all visitors to get involved with these local events to truly enjoy the magic of the season. Visit http://corp.alderwoodgroup.com/ for more information.
###
800-964-4233
info(at)alderwoodgroup(dot)com