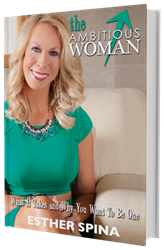 When women commit themselves to take action, they can accomplish amazing things.
(PRWEB) October 17, 2014
Esther Spina has traveled a long way to get where she is today. From her roots as an ambitious young woman in California to success as an entrepreneur and business to business salesperson, Spina has been on a course like no other. Her many uniques experiences in both her life and career helped inspire her new book- The Ambitious Woman: What it Takes and Why You Want to Be One.
The Ambitious Woman has been a great success on Amazon, skyrocketing to #2 in the 'Women in Business' category. The day the book launched, Spina received over 200 rave reviews on the site, and her book also became #16 of the overall 'Hot New Releases.' The Ambitious Woman has sold extremely well and has resulted in a great deal of inspired, happy readers.
The Ambitious Woman is a candid take at what's necessary to attain success as a woman in business, at home, or in any other environment. Spina reveals the great amount of ambition one needs to pursue their dreams, no matter how big. She combines her unique experiences and vibrant personality to create a special reading experience full of inspiration and heart.
The Ambitious Woman is just one way Esther Spina inspires others. A motivational expert and speaker, Spina has become a sought after mentor for thousands of women who are struggling to succeed in the business world. She even founded the Ambitious Women network in 2008, creating a place where women can connect, share their ideas and experiences, and ultimately become equipped to attain financial freedom. Her leadership, energy, and valuable insights have made Esther Spina uniquely inspirational as both a speaker and author. "When women commit themselves to take action, they can accomplish amazing things," Spina notes.
About Esther Spina:
Esther Spina has alway been on a unique course toward success. Raised in California, Esther started out "ambitious" by becoming the first female promoted to the role of Order Desk Clerk for General Electric/Hotpoint. After two years Esther moved to San Diego where she met and married her husband, Frank Spina. Together, they built a highly successful ceramic tile business until the recession of the 1990s made California construction a difficult industry in which to succeed. Frank and Esther then moved to Fort Worth, Texas, and Esther began her independent sales journey by selling business to business for the next 12 years. She then joined another sales organization, where her career took her to heights she had only dreamed of previously. In 2008, Esther founded a network call Ambitious Women, which supports women in business through annual conferences. She is a popular motivational speaker as well as a businesswoman and author.