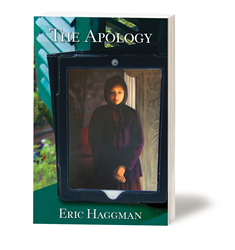 Amazon's CreateSpace provides a 'new voice of publishing' by giving writers a platform to share their ideas and words. It's a great complement to traditional publishing and its opened the door to more writers and more available content.
Boston (PRWEB) August 02, 2016
Publishing used to go like this: author writes book, author gets agent, author gets published. It wasn't a perfect system – some great books got missed in the slush pile (think how often Andrew Weir, Author of The Martian, got turned down). But now a growing number of writers – including first-time author Eric Haggman – are choosing to self-publish and self-promote their works.
"Self-publishing used to be the path of last resort, but not anymore. Now you've got authors who are choosing to self-publish and hitting the New York Times bestseller list," says Haggman. "Part of the reason is the rise in electronic, or e-book, sales which are estimated to grow at a CAGR of almost 14 percent during 2016-2020, according to a study by Technavio. And according to the Author Earnings Report, self-published books represent 31 percent of e-book sales on Amazon Kindle."
What sets this new generation of authors apart is that many of the most successful treat self-publishing as a business. Haggman is a case in point. He used his advertising background along with his wife and business partner, Emily Haggman, to craft a sophisticated social media launch for The Apology, exchanging his entrepreneur hat for 'authorpreneur'.
"Eric has written an incredible historical thriller that grips you from the first page to the last. My job is to make sure readers hear about it, get excited, read it and spread the word," Emily Haggman notes.
The coordinated marketing plan resulted in a flurry of social media buzz, as well as a review in the Gloucester Daily Times.
Reviewer Joann Mackenzie picked up on Haggman's credentials noting he's one of many ad men turned authors, "…Eric Haggman takes a first ambitious step toward joining the ranks of advertising creative directors turned authors whose names will be known to anyone who has ever perused the paperback shelves of airport book shops…it is the preternaturally prolific Patterson…who Haggman… most obviously emulates."
Thanks to Amazon's new publishing program CreateSpace, the Haggmans published The Apology in less than three months – a process that would take much longer in traditional publishing.
"Amazon's CreateSpace provides a 'new voice of publishing' by giving writers a platform to share their ideas and words. It's a great complement to traditional publishing and its opened the door to more writers and more available content," Haggman explains. "Being in the advertising business, we understand how important social media is to promote new products, in this case a new book, it offers a way to build an audience base and interact directly with them in a way that was never possible before."
Haggman spent two years writing and researching The Apology, which included two month-long, boots-on-the-ground, trips to Asia – visiting Vietnam and Japan. The story was inspired by these world travels, Haggman's passion for political conspiracy theories and the inner workings of the criminal underworld, as well as thrillers by his favorite writers including James Lee Burke and Steig Larsson. While researching The Apology, Haggman even met and interviewed a Yakuza member to better understand this incredibly powerful mafia group openly operating in Japan today.
The result is a super charged thriller that pits Haggman's protagonist – Christian Lindstrom – against forces so powerful that they'll stop at nothing to get what they want. Another ad man and author – James X Mullen, former CEO of Mullen Advertising clearly felt the pull and posed the question, "Is Haggman the new Patterson?" In a review of the book he said, "The Apology is both a fast-paced adventure novel and an extraordinarily clear and accurate description of the disturbing relationship between the militaristic Japanese and their Chinese pre-war victims. Haggman is a superb storyteller with a visual sense of words who makes this disturbing era come pictorially to life. Read it now because when it's a major Hollywood film, you and I can claim to have discovered this formidable talent."
The Apology is now available for purchase on Amazon. For more information, visit theapologybook.com.
About The Apology:
Filmmaker Christian Lindstrom returns to Vietnam to shoot tourism commercials, only to confront the agony of his past and the power of the Asian underworld to control political events—including the creation and the whitewashing of Japan's history itself. For producer Nachi Tanaka, it is the story of the shameful sins of the father coming back to hurt and haunt her family generations later. For the Japanese government, it is a coup d'état engineered by powerful business interests with the Japanese mafia -- the Yakuza -- doing their murderous bidding. To learn more about the book, please see the trailer or visit http://www.theapologybook.com.
About Eric Haggman:
A Milwaukee, Wisconsin native, Eric graduated from Colgate University. He lives on the North Shore of Boston, with his wife, Emily and their Ragdoll cat, Shanghai, who thinks he's a dog.
Media Contact:
Nick Brown
Matter Communications
theapology [at] matternow.com
(971) 245-4001