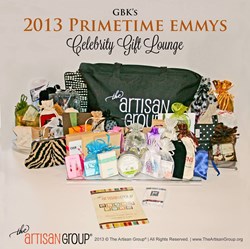 We want to spread the word about the quality, uniqueness and diversity that one can find when shopping handcrafted.
Sunnyvale, California (PRWEB) October 01, 2013
The Artisan Group® (http://www.theartisangroup.org) exhibit has become a must-see for celebrities and members of the press attending GBK's annual pre-Emmys Celebrity Gift Lounge. This year, the California-based arts promotion group stayed true to form as it showcased a lovely array of handcrafted goods, from men's and women's jewelry to bath & spa products to clutches to couture pet accessories—all created by its members, who are independent artisans working in the United States and internationally. The Gifting Suite took place September 20-21 at the W Hotel in Hollywood.
"We want to spread the word about the quality, uniqueness and diversity that one can find when shopping handcrafted," said The Artisan Group® Founder Valerie Guerrero. "We were thrilled to be able to share our members' amazing products with this very appreciative audience, and we have been overwhelmed with the positive feedback our members have received after the event."
Celebrities who received swag bags by The Artisan Group at the GBK Primetime Emmys gifting suite included Neil Patrick Harris (host of the Primetime Emmys, "How I Met Your Mother"), Tony Hale (Emmy winner, Outstanding Supporting Actor in a Comedy Series for "Veep"), Matt LeBlanc ("Friends", "Episodes"), Ed O'Neill "Modern Family"), Harry Hamlin ("Mad Men"), RJ Mitte ("Breaking Bad"), Dennis Quaid ("Vegas"), Jason Issacs ("Harry Potter", "Case Histories"), Dot Marie Jones ("Glee"), Chris Noth ("Sex and the City", "The Good Wife"), Karina Smirnoff ("Dancing with the Stars"), Mary Murphy ("So You Think You Can Dance"), David Crane, (co-creator of "Friends", "Episodes"), Travis Wall, (choreographer for "So You Think You Can Dance"), Lesley Nicol ("Downton Abbey"), Jackson Pace ("Homeland"), Lori Greiner ("Shark Tank"), Tempestt Bledsoe ("Guys with Kids") and Terry O'Quinn ("Falling Skies", "Lost").
The Artisan Group® also gifted GBK's 2013 charity beneficiaries, The Creative Coalition, Lambda Legal, GUARDaHEART Foundation and spcaLA
Photos of the display pieces and contact information for all participants is available in The Artisan Group's official 2013 Primetime Emmys Event Guide.
Participating members gifting the celebrities at GBK's Luxury Gift Lounge honoring the Nominees & Presenters of the 65th Annual Primetime Emmy Awards included: Elaine Basham | Alainn Designs; Catrina Bingham | Allison-Nichole Handmade Bath & Body; Tiffany V. Bobb | T. Victoria Accessories; Brandi Bowen | Ever So Lovely® Inc.; Amy Braswell | PaperFinch Design; Lori Bresette | Bracelets For Me; Cindy Brunetti | SoapyBliss Bath & Body Bakery; Simona Counts | Adora by Simona; Liane Crigler | Ten2Midnight Studios; Sandy and Stevie D'Andrea | Jewels For Hope; Candice D'Mello | Vitrine; Violet Damyan | Violet D'Art; Amy Nicole Davis | Bow Wow Couture; Noelle Davis | Suffield Suds, Scents & Sundries; Kathryn Doll | Kathryn Designs; Marni Fernandes | Papaya Blue Designs; Jennifer Glover-Croghan | Knotieties™; Ashley and Nathan Griffith | The Gnarly Whale; Jessica Falcon | The Falcon Soaperie; Marcia Fleming | Essentials Etc.; Lori Ford | Belukro; Kathy Healy | Scents in Soy; Rachel Hughes | Saressa Designs; Jill Jones | Bidwell Botanicals; Kim Lawson | Varu; Shelly Pompey Leonard | Mei Faith Studio; Emma Mann | Soap Cauldron®; Joanne McKillip | JJewelry - Jewelry by Joanne; Anita Miller | Nature's Images By Design; Jasmine Myers | Bama + Ry; Aileen Parks | Girl by Aileen; Jennifer Racette | Alison Julien Collection®; Jenny Rempe | Black Magic Studio; Lisa Smith | LKS Originals; Sarah Struett | Four Black Paws; Kristi Taylor | Got Sparkles; April Todd | Little Miss Princess Tutu; Cami Tout | Camilee Designs; Angie Turner | Laughter and Love Photography; Christine Untiedt | The Brown Barn Company; Louise Vargas | SoGa Artisan Soaperie; Andrea Wagner | Andrea Designs.
To learn more about The Artisan Group® and its upcoming celebrity gifting events visit http://www.theartisangroup.org, follow the Artisan Group® on Facebook (facebook.com/theartisangroup), Twitter (@theartisangroup), and Instagram (theartisangroup) and subscribe to The Artisan Group® blog (theartisangrouporg.blogspot.com). Select products are also available to view on The Artisan Group® Pinterest boards (pinterest.com/theartisangroup). Direct press inquiries to press(at)theartisangroup(dot)org.
About the Artisan Group®
The Artisan Group® (http://www.theartisangroup.org) is an elite art promotions group representing talented small business artisans at the best celebrity gift lounges. The organization provides a collective sampling of handcrafted products to celebrities and members of the press at top luxury gift lounges such as those leading up to The Academy Awards, The Golden Globes, The MTV Movie Awards and The Primetime Emmys. Membership in The Artisan Group® is juried and by invitation only. The Artisan Group® also offers its members guidance in the areas of sales, marketing, social media and public relations.
The Artisan Group® is in no way associated with MTV, The Academy of Motion Picture Arts and Sciences, The Hollywood Foreign Press Association or The Academy of Television Arts and Sciences.