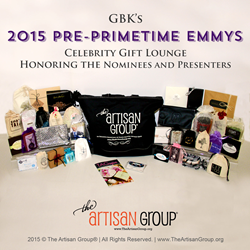 Our members are wonderful ambassadors for the handcrafted movement.
Beverly Hills, California (PRWEB) September 08, 2015
Platinum Sponsor The Artisan Group® (http://www.theartisangroup.org) will be present at GBK's Pre-Primetime Emmys Celebrity Gift Lounge honoring the Nominees and Presenters of the 2015 Primetime Emmy Awards, with a star worthy selection of luxury handcrafted goods prepared by its members especially for attending celebrities, VIPs and members of the press. The Gift Lounge takes place September 18-19, 2015 at an exclusive location in Beverly Hills, California.
The Artisan Group's swag bag this year is valued at over $1,300.00 and includes an assortment of artisan jewelry; bath and body products; hair accessories; candles; crocheted hats; clutches; designer stationery; nail polishes; pet products; fine art photography and other handcrafted items. The Artisan Group will also be gifting GBK's 2015 charity beneficiaries, to be announced in the coming days.
Remarked The Artisan Group® founder Valerie Guerrero, "This is our fifth year sponsoring GBK's Pre-Primetime Emmys Gift Lounge. We are offering our most varied selection of handcrafted products ever, with items that will appeal to both women and men, including some fabulous home décor items. Our members are wonderful ambassadors for the handcrafted movement. I could not be more proud."
At GBK's 2014 Pre-Primetime Emmys event, members gifted cast members from "Orange is the New Black," "Breaking Bad," "Mad Men," "How To Get Away With Murder," "Fargo," "True Blood," "Ray Donovan," "So You Think You Can Dance," and "Dancing with the Stars," among many others.
Participating members gifting the celebrities at GBK's 2015 Pre-Primetime Emmys Celebrity Gift Lounge include: Marie Chang of August + White; Caitlin Reyna of Boy Cherie; Chelsea Bond of Chelsea Bond Jewelry; Debra Jeffries of Debra's Divine Designs; Vanessa Painter of DesignMe Jewelry; Emily Scott of e. scott originals; Aileen Parks of Girl by Aileen; Bethany Schuelke of Hope Anchored Designs; Jessica Klaaren of Jessica Klaaren Jewelry; Kristen Jackson of Lit&Co. Candles; Joy Ekhator of Lovinah Natural & Organic Skincare; Mary Brooks of Mary Grace Jewellery; Stacey MacDonald of Pure! Lather Inc.; Starlene DeBord of Scarlett Sage; Susie Gainor of SmiLe Styles; Emma Mann of Soap Cauldron; Maren Misner of The Tin Owl; Catherine McDonald of wanderlustography; Judy Aussenhofer of AussenWolf Designs; Navine Acevedo of Brosily Bath and Body; Courtenay Madsen of Courtenay J Designs; Carleigh Pearce of Ellison's Organics; Mila and Payton Bartos of FizzCandy Jewelry; Erica Taylor of Paper and Place; Deborah Gray-Wurz of Bead Indulgences; Erin Pelicano Cauble of Erin Pelicano, ltd; Gretchen Hind of Gretchen Hind Designs; Christi Meshell of House of Matriarch; Joanne McKillip of JJewelry - Jewelry by Joanne; Nichelle Shaw of Necessities by Nichelle; Caitlin Brotz of Olivu 426; Melissa J. Robinson of Raven Boutique; Leslie D. Tucker of Surprise Designs and Brian Tacang of The Glossatteer.
The Artisan Group's official 2015 Pre-Primetime Emmys Event Guide detailing all participating members is available to view online at Joomag. See photos of gifted items on Pinterest. To learn more about The Artisan Group's support of the handcrafted movement, its membership and its charitable contributions, read TAGazine | Vol. 6.
The Artisan Group members come from all over the United States, Canada, and around the world. They represent a varied group of individuals who are dedicated to the handcrafted movement. With the help of The Artisan Group, members gift their products to celebrities, VIPs and members of the press at elite Hollywood and New York City gift lounges.
The Artisan Group also assists with placing member products on popular television shows like Law & Order: SVU, Bones, Chasing Life, Modern Family, Baby Daddy, The Vampire Diaries, Days of Our Lives, The Young & The Restless, Hart of Dixie, Scandal, The Voice, and many others. The Artisan Group® also donates to charitable organizations by providing gift bags that can be auctioned off to raise funds; to date, TAG has helped raise over $10,000 for organizations including Let's Move Together, One World Foundation and The Joyful Child Foundation.
Follow The Artisan Group® on Facebook (facebook.com/theartisangroup), Twitter (@theartisangroup) and Instagram (@theartisangroup) and subscribe to The Artisan Group blog (theartisangroup.org/blog/).
Select products are also available to view on The Artisan Group's Pinterest boards (pinterest.com/theartisangroup). Direct press inquiries to press(at)theartisangroup(dot)org.
ABOUT THE ARTISAN GROUP®
The Artisan Group® (http://www.theartisangroup.org) is a premier entertainment marketing group dedicated to representing small business artisans at the best celebrity gift lounges and press events. The organization provides a collective sampling of handcrafted products to celebrities and members of the press at top luxury gift lounges such as those leading up to The Academy Awards, The Golden Globes, The MTV Movie Awards and The Primetime Emmys.
The Artisan Group also coordinates product placement of its member's handcrafted products on such hit television shows as The Voice, The Vampire Diaries, Days of Our Lives, The Young & The Restless, Modern Family, Parenthood and Scandal, among others. Membership in The Artisan Group is juried and by invitation only.
The Artisan Group is in no way associated with The Academy of Motion Picture Arts and Sciences, The Hollywood Foreign Press Association, MTV, or The Academy of Television Arts and Sciences.