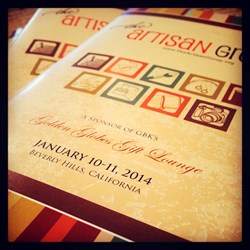 Our team has done a wonderful job with creativity, product quality and packaging. We can say with confidence that we have the very best in handcrafted to share, and we can't wait to do so
Sunnyvale, California (PRWEB) January 08, 2014
The Artisan Group® (http://www.theartisangroup.org) is sending a lavish selection of handcrafted goods to welcome celebrities and the press at GBK's Luxury Celebrity Gift Lounge in Honor of the 2014 Golden Globes Nominees and Presenters. The Gift Lounge takes place January 10-11 at an exclusive Beverly Hills, California location.
This will be the third year The Artisan Group has been a sponsor at GBK's Golden Globes Gift Lounge. Celebrities, press and media attending the event have come to look forward to The Artisan Group's engaging display of showcase pieces, and swag bags filled to the brim with exceptional handcrafted goods created by independent artisans working in the United States and around the world.
The Artisan Group's Official Golden Globes Awards Event Guide detailing all participating members is available online here.
"Our members love GBK's Golden Globes Gift Lounge," shared The Artisan Group founder Valerie Guerrero. "The guest list is incredible and the energy and enthusiasm is contagious. Once again, our team has done a wonderful job with creativity, product quality and packaging. We can say with confidence that we have the very best in handcrafted to share, and we can't wait to do so. This year, we're also representing the work of two talented teenage entrepreneurs, something we're very proud of."
Members at last year's Lounge gifted cast members from the movies "Lincoln" and "Django Unchained," as well as the popular television shows "Breaking Bad," "The Good Wife," "Sons of Anarchy," "Grimm," "Grey's Anatomy," "The Client List," and "Scandal," to name a few.
The Artisan Group's gift bag this year is valued at over $1,175.00 and contains an assortment of jewelry; bath and body products; hair accessories; fine art photography; candles; designer clutches; pet accessories; and other handcrafted items. The Artisan Group will also be gifting GBK's 2014 charity beneficiaries, to be announced in the coming days.
Participating members gifting the celebrities at GBK's Luxury Gift Lounge for the 2014 Golden Globes include Christy Bartlett, San Diego Bath & Body Company; Mila and Payton Bartos, FizzCandy Jewelry; Laura and Skylar Bisel, Bizzy Fizz Bath Treats; Tiffany Bobb, T. Victoria; Brandi Bowen, Ever So Lovely®; Laura Bracken, Bracken Designs Studio Art Jewelry; Cindy Brunetti, SoapyBliss Bath & Body Bakery; Danielle Carter, The Crafty Turtle; Brandi Collins, Villain Accessories; Candice D'Mello, Vitrine; Amy Davis, Bow Wow Couture; Jeanette Downing, NAILTHINS; Susie Gainor, SmiLe Style; Leanne Gaumont, Wristicuffs; Jennifer Glover-Croghan, Knotieties™; Angie Gorres, Blossom Squared; Ashley and Nathan Griffith, The Gnarly Whale; Mei-Lynn Hunter, My Ten Friends; Carrie Jenkins, Darling Diva Polish; Melanie Johnson, Origami Groove; Rachel Leathers, Genuine Leathers Designs; Shelly Pompey Leonard, Mei Faith Studio; Alexis Loschiavo, ShadyLady; Jude McConkey, J. McConkey Photography and Wearable Art; Anita Miller, Nature's Images By Design; Betty and Michael Miller, Magic Senses®; Sarah Mones, Simplicity Cosmetics; Kimberly Moses, Candle Krazy; Javi Osei, La Maison du Papillon; Aileen Parks, Girl by Aileen; Esther Prat, Wrapped In Leather; Jessica Richards, Wishful Jewelry by Jess Kay Designs; Michelee Scott, MScott-Photography; Yvonne Stewart, Zuzu's Petals Creations; Chelsea Sullens, Loud Waterfall Photography; Rachel Vincun, Bonny Bubbles; Nicole Warmerdam, Great Rock Moon; Shawna Wilkinson, Zoe Natural Creations; and Madrim McGalliard & Jenn Yi, 11th + Grand.
To learn more about The Artisan Group visit theartisangroup.org, follow it on Facebook (theartisangroup), Twitter (@theartisangroup), and Instagram (theartisangroup) and subscribe to The Artisan Group blog (theartisangrouporg.blogspot.com). Select products are available to view on The Artisan Group Pinterest boards (theartisangroup).
About The Artisan Group
The Artisan Group® (http://www.theartisangroup.org) is an elite art promotions group representing talented small business artisans at the best celebrity gift lounges. The organization provides a collective sampling of handcrafted products to celebrities and members of the press at top luxury gift lounges such as those leading up to The Academy Awards, The Golden Globes, The MTV Movie Awards and The Primetime Emmys. The Artisan Group also coordinates product placement of its member's handcrafted products on such hit television shows as "The Voice", "The Vampire Diaries", "Parenthood" and "Scandal", among others. Membership in The Artisan Group is juried and by invitation only.
The Artisan Group is in no way associated with MTV, The Academy of Motion Picture Arts and Sciences, The Hollywood Foreign Press Association or The Academy of Television Arts and Sciences.