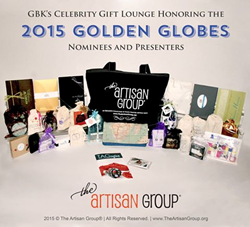 We love helping our small business members by getting their products into the hands of celebrities, press members and other important influencers.
Hollywood, Califronia (PRWEB) January 21, 2015
California-based entertainment marketing organization The Artisan Group® (http://www.theartisangroup.org) delighted celebrities, VIPs and members of the press stopping by GBK's 2015 Golden Globes Celebrity Gift Lounge with an eye-catching exhibit and its signature black swag bag, filled to the brim with handcrafted goods from participating members. The Gift Lounge took place January 9-10, 2015, at The W Hotel in Hollywood, California.
The Artisan Group's gift bag this year was valued at nearly $700.00. It included an assortment of artisan jewelry; bath and body products; clutches; soy candles; designer stationery; nail polishes and cosmetics; pet products; fine art photography; and other handcrafted items.
"The GBK team presented yet another well-organized, beautifully choreographed and highly-attended gift lounge," said The Artisan Group founder Valerie Guerrero. "By drawing in many of Hollywood's brightest stars, including Golden Globe nominees, GBK helps to give our members an unparalleled opportunity to place their handcrafted goods in the spotlight. This year, The Artisan Group received a record number of press, blogger and social media shout-outs from happy gift recipients."
Best Actress winner Gina Rodriquez ("Jane the Virgin") and Best Screenplay winners Alexander Dinelaris and Nicolas Giacobone ("Birdman") all visited The Artisan Group's exhibit and picked up this year's collection of handcrafted products.
Also stopping by The Artisan Group's exhibit were cast members from "Boyhood," "Birdman," "Jane the Virgin," "Selma," "How To Get Away With Murder," "Vanderpump Rules" and "Black-ish", among many others.
Spywitness called The Artisan Group's exhibit "absolutely fabulous." Press member Karin Salkin of ItsNotAboutMe.tv saved her TAG swag bag to open on her birthday, describing it as the equivalent of "[lots of] little Birthday presents." E! Online featured The Artisan Group at the top of their "Shopping With The Stars" list, with Jillian Rose Reed (MTV's "Awkward") striking a pose with TAG member Zoe Natural Creations' scrumptious-smelling Coffee & Sugar Body Scrub.
The Artisan Group also gifted GBK's 2015 charity beneficiaries, Lambda Legal (lambdalegal.org) World Vision (worldvision.org) and YES, Beat Liver Tumor, (beatlivertumors.org).
Participating members gifting the celebrities at GBK's 2015 Golden Globes Celebrity Gift included: Laura and Skylar Bisel, Bizzy Fizz Bath Treats; Debra Jeffries, Debra's Divine Designs; Jennifer DeHerrera, Dollipop Cosmetics; Carleigh Pearce, Ellison's Organics; Mila and Payton Bartos, FizzCandy Jewelry; Aileen Parks, Girl by Aileen; Chelsea Farmer, HorseFeathers Gifts; Lorelei Vella, Lorelei Vella, Inc.; Ruthie Youngman, LoveYourBling; Marie Chang, Marie Chang Designs; Anita Miller, Nature's Images By Design; Caitlin Brotz, Olivü 426; Sylvia Hart, Photomom101; Sara Lott, Pillar of Salt Studio; Shannon Howard, Shannon Howard Photography; Emma Mann, Soap Cauldron; Tara Reid, Starletta Designs; Kathy Dannel Vitcak, The Blissful Dog, Inc.; Kristin Fraser, the grapeseed company; Shawna Wilkinson, Zoe Natural Creations; Jessica Markham, Castle View Candles; Christi Meshell, House of Matriarch; Esther Shans, Lemon & Pearls; Mary Grace, Mary Grace Jewellery; Shelly Pompey Leonard, Mei Faith Studio; Stephanie Hovsepian, SassyBelleWares; Lara Harris, Studio Lara; and Genna Cowsert, The Detroit Card Co.
The Artisan Group's official 2015 Golden Globes Event Guide detailing all participating members is available to view on joomag.com. See photos of gifted items on Pinterest. To learn more about The Artisan Group's support of the handcrafted movement, its membership and its charitable contributions, read TAGazine | Vol. 4.
The Artisan Group members come from the United States, Canada, and around the world. They represent a varied group of individuals who are dedicated to the handcrafted movement. With the help of The Artisan Group, members gift their products to celebrities, VIPs and members of the press at elite Hollywood and New York City gift lounges.
The Artisan Group also assists with placing member products on popular television shows like The Vampire Diaries, Days of Our Lives, The Young & The Restless, Hart of Dixie, Scandal, The Voice, and many others. The Artisan Group® also donates to charitable organizations by providing gift bags that can be auctioned off to raise funds.
Follow The Artisan Group® on Facebook (facebook.com/theartisangroup), Twitter (@theartisangroup) and Instagram (@theartisangroup) and subscribe to The Artisan Group blog (theartisangroup.org/blog/).
Select products are also available to view on The Artisan Group's Pinterest boards (pinterest.com/theartisangroup). Direct press inquiries to press(at)theartisangroup(dot)org.
ABOUT THE ARTISAN GROUP®
The Artisan Group® (http://www.theartisangroup.org) is a premier entertainment marketing group dedicated to representing small business artisans at the best celebrity gift lounges and press events. The organization provides a collective sampling of handcrafted products to celebrities and members of the press at top luxury gift lounges such as those leading up to The Academy Awards, The Golden Globes, The MTV Movie Awards and The Primetime Emmys. The Artisan Group also coordinates product placement of its member's handcrafted products on such hit television shows as The Voice, The Vampire Diaries, Days of Our Lives, The Young & The Restless, Modern Family, Parenthood and Scandal, among others. Membership in The Artisan Group is juried and by invitation only.
The Artisan Group is in no way associated with The Academy of Motion Picture Arts and Sciences, The Hollywood Foreign Press Association, MTV, or The Academy of Television Arts and Sciences.