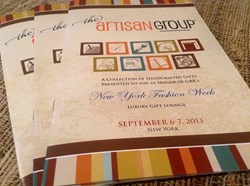 Once again our members have gone all out to create an amazing selection of handcrafted products.
Sunnyvale, California (PRWEB) August 27, 2013
Celebrity and VIP guests attending GBK's Styling Lounge for New York Fashion Week are in for a treat as The Artisan Group® (http://www.theartisangroup.org) showcases a lavish selection of handcrafted goods in a Celebrity Gift Bag prepared especially for the invitation-only event. The Style Lounge will take place September 6-7, 2013 at an exclusive location in New York City.
The Artisan Group's distinctive black swag bag will be full of handcrafted jewelry, bath and body products, designer stationery, fine art photography, and other items, valued at $1,424.00 The Artisan Group will also be gifting GBK's 2013 charity beneficiary, to be announced in the coming days.
"The Artisan Group loves the way New York Fashion Week celebrates innovation and creativity and our participation in GBK's Styling Lounge is highly anticipated this year," said founder Valerie Guerrero. "Once again, our members have gone all out to create an amazing selection of handcrafted products we know recipients will thoroughly enjoy."
Participating members gifting the celebrities at GBK's Styling Lounge for New York Fashion Week include: Melissa Ahonen of BBT Style; Julie Astrauckas of Julie Ann Art; Brandi Bowen of Ever So Lovely®; Cindy Brunetti of SoapyBliss; Marie "Wee" Caloggero of Wee Bindery; Julie Cleveland of Blue Morning Expressions; Liane Crigler of Ten2Midnight Studios; Candice D'Mello of Vitrine; Wendy Emerson of Willow Creek Jewelry; Kristin Fraser Cotte of The Grapeseed Company; Jennifer Glover-Croghan of knotieties™; Ashley Griffith of The Gnarly Whale; Rachel Hughes of Saressa Designs; Debra Jeffries of Debra's Divine Designs; Jill Jones of Bidwell Botanicals; Cindy Kassebaum of Rock & Hardware Jewelry; Heidi Kinnally of HeidiLee Design; Jessica Klaaren of Jessica Klaaren Jewelry; Rose LaChapelle of The Crystal Rose; Susan Leeson of Susan L Jewelry; Keri Lehmann of Savvy Boheme; Christine Lorenzo of SariBlue®; Courtenay Madsen of Courtenay J Designs; Samantha Martin of Angelic Ambitions; Catherine McDonald of cMcDonald; Anita Miller of Nature's Images By Design; Lizabeth Noeggerath of Hecho Por Liz; Jennifer Nyiri of Alyce n Maille; Toni Perez of Simply Caprine; Elizabeth Pings of Nature's Splendour®; Andrea Procida of Andrea Wysocki Jewelry; Michelle Provencher of The Love, Mich Collection; Kimberly Spector of Nair & Bjorn; Mollee Veurink of So.ME by MolleeV; Karin Wiseman of Blossom Shop; and Weronika Woźniczka of Verha.
The Artisan Group's Official 2013 New York Fashion Week Event Guide detailing all participating members is available at http://issuu.com/theartisangroup/docs/2013_nyfw_gift_guide_digital.
To learn more about The Artisan Group® and its upcoming celebrity gifting events visit the website (theartisangroup.org), follow The Artisan Group on Facebook (facebook.com/theartisangroup), Instagram (instagram.com/theartisangroup) and Twitter (@theartisangroup) and subscribe to The Artisan Group blog (theartisangrouporg.blogspot.com). Select products are available to view on The Artisan Group's Pinterest boards (pinterest.com/theartisangroup). Direct press inquiries to Valerie Guerrero at (408) 203-6727.
About The Artisan Group®
The Artisan Group® (http://www.theartisangroup.org) is an elite art promotions group representing talented small business artisans at the best celebrity gift lounges. The organization provides a collective sampling of handcrafted products to celebrities and members of the press at top luxury gift lounges such as those leading up to The Academy Awards, The Golden Globes, The MTV Movie Awards and The Primetime Emmys. Membership in The Artisan Group is juried and by invitation-only. The Artisan Group also offers its members guidance in the areas of sales, marketing, social media and public relations.
*The Artisan Group is in no way associated with New York Fashion Week.