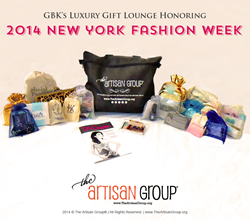 Artisan goods help create distinctive personal style.
New York City, NY (PRWEB) September 03, 2014
The Artisan Group® (http://www.theartisangroup.org) is once again a Platinum Sponsor at GBK's Luxury Gift Lounge Honoring New York Fashion Week. The Group will be presenting a thoughtfully curated selection of its members' handcrafted goods to celebrities, VIPs, and members of the press attending the event, which takes place September 5-6, 2014 at an exclusive location in New York City.
The Artisan Group's gift bag this year is valued at over $800.00 and includes an assortment of artisan earrings, necklaces and bracelets; bath and body products; cosmetics and nail polishes; hair accessories and other handcrafted items.
"The Artisan Group believes handcrafted goods can be instrumental in developing a distinctive personal style," said Valerie Guerrero, founder of The Artisan Group. "We are thrilled to be able to showcase our members' products at this major fashion event."
Participating members displaying their gifting celebrities at GBK's Luxury Gift Lounge Honoring New York Fashion Week include Lori Ford, BELUKRO.COM; Betsy Hobart, Betsy Grace Jewelry; Caron Williams, Bubbles Bath Boutique; Cameo Kingsbury, Cameo Colours Lacquers; Debra Jeffries, Debra's Divine Designs; Adrianna Gonzalez, Delush Polish; Jennifer DeHerrera, Dollipop Cosmetics; Carleigh Pearce, Ellison's Organics; Aileen Parks, Girl by Aileen; Nichole Halgren, Gleeful Peacock; Heidi Kingman, Heidi Kingman Jewelry; Sandy & Stevie D'Andrea, Jewels For Hope; Pam Hurst, Pam Hurst Designs; Marisa O'Brien, primlark; Stephanie Hovsepian, SassyBelleWares; Cindy Brunetti, Soapybliss Bath & Body Bakery; Holly Mandarino, Sweet Ties Hair Ties & Headbands; Cindy ONeill, YesterYear Soap Company; and Sienna Kittelman, Zoe and Piper.
The Artisan Group's Official 2014 New York Fashion Week Event Guide detailing all participating members is available on Issuu. To learn more about The Artisan Group's support of the handcrafted movement, its membership and its charitable contributions, read TAGazine | VOL. 3 (New York Fashion Week).
Visit TheArtisanGroup.org at theartisangroup.org; follow The Artisan Group on Facebook, Instagram and Twitter (@theartisangroup); and subscribe to The Artisan Group blog.
Members of the press can direct inquiries to Valerie Guerrero at (408) 203-6727.
ABOUT THE ARTISAN GROUP®
The Artisan Group (http://www.theartisangroup.org) is a premiere entertainment marketing organization representing talented small business artisans at the best celebrity gift lounges. The organization provides a collective sampling of handcrafted products to celebrities and members of the press at top luxury gift lounges such as those leading up to The Academy Awards, The Golden Globes, The MTV Movie Awards and The Primetime Emmys. The Artisan Group also coordinates product placement of its member's handcrafted products on such hit television shows as "Rizzoli & Isles," "The Young & The Restless," "The Voice," "The Vampire Diaries," "Parenthood" and "Scandal," among others.
Membership in The Artisan Group is juried and by invitation only.
The Artisan Group is not in any way associated with New York Fashion Week.