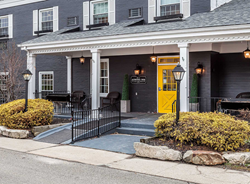 Aurora, OH (PRWEB) September 07, 2017
The historic Aurora Inn Hotel & Event Center, an Ascend Hotel Collection Member, will host a Grand Reopening celebration on October 13th in honor of its completed renovation coupled with its 90-year anniversary. Designed and inspired by New-York based designer Genevieve Gorder, of HGTV fame, the 3-year remodeling of the Western Reserve landmark property mixes the beauty, grace and serene dignity of an earlier century with today's modern finishes. The Inn's legendary reputation for food, atmosphere and events is reclaimed through its newly-crafted space.
"I'm pleased to announce the rebirth of the historic Aurora Inn," said General Manager Jason Sandoval. "After 90 years, the hotel has been harmoniously restored to its original beauty, designed for the comfort of today's savvy traveler." On Friday, October 13th, the public is invited to stop by during the afternoon beginning at 12 pm to join city officials in a Grand Reopening ribbon-cutting, walk the picturesque grounds and participate in guided tours, enjoy a selection of Chef's menu tastings, or enter in a raffle for the chance to win door prizes. The Open House/Birthday Party will dovetail into an outdoor concert performance to start at 8:30 pm by Heartbreaker, a Heart and Joan Jett tribute band.
When it first opened in 1927, The Aurora Inn was a "pleasant pause" for weary travelers in a crossroads town. The intimate refuge became a gathering place for the local community and celebrities, hosting legends like Rosemary Clooney and Paul Newman, before losing its luster over time. Now under new ownership, the revitalized Inn promotes genuine cordiality of yesteryear inside a chic new setting. The charming, 66-room property, owned by Aurora Hotel Partners LLC and managed by Portfolio Hotels & Resorts, pays respect to its celebrated past while providing guests with the modern amenities of a luxury hotel.
The Design:
Genevieve, who hosts the "Dear Genevieve" show on the HGTV channel, was the lead designer in The Aurora Inn remodeling. The beloved American designer applied her special talents and skills to update many areas, including the Six Horses Tavern, The Cutting Board Restaurant, guest rooms, and event/banquet facilities. The result is a refreshed space that exudes atmosphere conducive for the same gracious hospitality and friendly encounters that made the Inn renowned nearly a century ago. Genevieve attempted to maintain the richness and history that is still evident throughout the Inn while adding bits of modern flare to make each space relevant.
The lobby features the hotel's original brick flooring and oversized fireplace, while ceiling beams, doors, frames and crown molding uncovered during the renovation have been lovingly restored. The Inn's design scheme captures shades of white, grey, black and off-black, while providing pops of vibrant color for contrast. Fine craftmanship and creative touches have been incorporated throughout the hotel, such as handmade wooden armoires made by local Amish carpenters and sliding barndoor bathroom partitions.
The Food & Beverage:
Throughout its 90-year run, The Aurora Inn has always been a popular local destination for quality food and drink. Located off the lobby and considered one of the best restaurants in the area is The Cutting Board Restaurant. Adjacent to The Cutting Board is Six Horses Tavern, named for the type of hitch used to harness the six horses which pulled the busy stage coach from the stop that once occupied this site.
The Cutting Board
The Cutting Board is an American Contemporary kitchen offering "comfort food with a twist," incorporating local and seasonal ingredients to fuel its "fresh to your table" concept. The culinary team focuses on creating unique pairings and creative menu options that are "sure to please even the most distinguished palate." Their specialty is from-scratch recipes that use home-grown herbs and spices, fresh produce, and sustainably-sourced proteins – "like having a gourmet home cooked meal away from home." The Cutting Board features tableside cooking, a rotating scratch menu and brunch buffets on Sunday's and special holidays.
Six Horses Tavern
Fond memories of a once vibrant bar scene, where celebs like Ohio-native Dean Martin would stop by for a cold one, are reawakened at the restored Six Horses Tavern. The warm and cozy bar pays homage to its humble beginnings set in a new age, with dark wood and wrought iron fixtures mixed in with modern luxuries (such as USB ports in the power outlets). The tavern offers guests the casual option of a quick bite, beer or a craft cocktail with friends or coworkers in a historic venue. Daily Happy Hour specials along with weekly live music, inside or outside during warm weather months, have also made Six Horses Tavern a leading entertainment venue in town.
The Event Facilities:
Weddings & Banquets
The Aurora Inn has been hosting dream weddings and unforgettable banquets for generations. The newly renovated ballroom and veranda, designed by Genevieve, still maintain their old-world charm. From small crystals layered into the wallpaper to restored chandeliers, the remodeled indoor space has unique touches mixed with vintage detail. Outdoors among the exceptionally manicured landscape, the Inn boasts an expansive patio perfect for cocktail receptions as well as a new tented pavilion that can accommodate large gatherings up to 350 people.
Meetings
Whether business guests are looking for a formal business luncheon in a bright and airy banquet area or a private meeting room, The Aurora Inn offers over 7,000 square feet of flexible space as well as a dedicated team of experts to help manage it. The renovated event space provides the intimate appeal of the historic Inn along with the high-tech capabilities of a state-of-the-art event center. Each meeting is tailored to the client's needs in a unique upscale environment, offering a wide verity of food and beverage selections, complete with audio and visual packages.
More about The Aurora Inn Hotel & Event Center, an Ascend Hotel Collection Member:
The Aurora Inn is a 90-year-old Western Reserve landmark located at 30 Shawnee Trail,
Aurora, Ohio 44202. The hotel finished a 3-year renovation in 2017, inspired by celebrity designer Genevieve Gorder. With 66 guestrooms and suites (including dog friendly room options), The Aurora Inn maintains a historically intimate charm intended for today's savvy traveler. The Inn proudly boasts a signature farm-to-table restaurant, an old-world tavern, a multi-functional ballroom, flexible meeting spaces and a large indoor pool that is beloved by the local community as well as hotel guests alike. The property is owned by Aurora Hotel Partners LLC and managed by Portfolio Hotels & Resorts. For more information, visit http://www.aurorainnohio.com, or to make a reservation visit http://www.choicehotels.com.