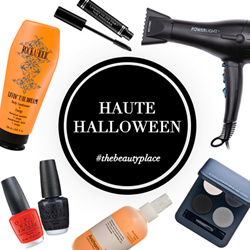 (PRWEB) October 15, 2014
TheBeautyPlace.com wants to prepare the beauty lovers and enthusiasts for the season—and enjoy it! That's why the editors have put together a ten-day Halloween beauty plan packed with smoky-eye tricks and ways to achieve glowing skin. From perfecting the dark eyeshadow look to mastering the 70's inspired hair, there's nothing but treat this Halloween season.
Follow TBP on Instagram and "Like" TBP on Facebook to learn about flash sales, giveaways and a chance to win one of the"Halloween Haute" items.
This year's "Haute Halloween" contest is live now!
HOW TO ENTER
1. Become a follower on Instagram (@thebeautyplace)
2. Comment on the Instagram post for "Haute Halloween"
3. Tag @thebeautyplace in a photo sharing your favorite beauty product from TheBeautyPlace and how you plan to incorporate it into your "Haute Halloween" look
Contestants must enter by October 22nd, 2014 11:00AM Standard Eastern Time.
The winner will be announced after 12PM Standard Eastern Time on October 22nd, 2014.
THE PRIZE
CHI is one of the leading and most trusted brands in hair styling tools that can be found backstage for fashion shows, beauty shoots and are the trusty tools for stylists across the nation.
The CHI Auto Digital Ceramic Waver, a truly unique styling tool that gives the freedom to crimp, wave or curl hair with precision using a three-barrel, is this year's Halloween giveaway.
RULES
Winner is responsible for contacting TheBeautyPlace.com with the shipping address to obtain the prize. Must redeem by October 24th, 2014 4:00PM Standard Eastern Time. No purchase is necessary to win. Valid for U.S. entries only.
ABOUT THEBEAUTYPLACE.COM
TheBeautyPlace.com is a leading online company of top brands at affordable prices. From skin care, hair care and everything beauty, TheBeautyPlace.com strives to offer current and prospective clients excellent customer service and make available the most coveted beauty products in the industry.
Follow TheBeautyPlace.com:
On Pinterest: pinterest.com/thebeautyplace/
On Twitter: @TheBeautyPlace
On Instagram: @TheBeautyPlace
On Facebook: facebook.com/pages/TheBeautyPlacecom/125435188536
TheBeautyPlace.com Blog: blog.thebeautyplace.com