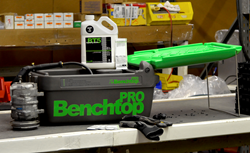 "The BenchtopPRO is the first truly clean parts washer that works".
Norcross, Georgia (PRWEB) June 13, 2014
Introducing The BenchtopPRO, the green parts washer uniquely qualified for tough jobs. This is a non-hazardous, non-flammable, easy to use, easy to store bench top parts washer that uses a self-cleaning (microbial) cleaning solution. The ideal gift for the repairman or mechanic in your life, The BenchtopPRO combines cutting-edge technology and superior cleaning performance, in a self-contained parts washer that is the perfect size for a small shop or home garage. And it comes with a 5-Year Warranty that covers the entire system, including the tank, the pump and the brush.
The BenchtopPRO combines the natural process of bioremediation with BT5 Degreasing Solution, a revolutionary, non-flammable cleaning fluid formulated to work at room temperature. The bioremediation process begins when microbes (packed in convenient MicroPRO Packs) are poured into the base of the parts washer. These microbes eat the grease and oil washed off dirty parts and turn these harmful contaminants into a harmless by-product of carbon dioxide and water. The BT5 Degreasing solution stays clean and strong through this self-cleaning process, and is ready to use every time you need it.
Bring a smile to the face of your tough Mr. Fix-It with The BenchtopPRO. Rugged construction, bioremediation, outstanding cleaning performance, portability and non-hazardous solution are just a few of the benefits your guy will get when he uses this parts washer.
AS SEEN ON TV: TruckU, Two Guys Garage, Stacey David and All Girls Garage. Named Popular Mechanics "Tool of The Month" in May, 2013; Reviewed by MTBR Magazine, Rod & Custom Magazine, Single Tracks, About.com, DIY.com and The Bicycle Doctor, as well as the featured product on HOME TALK USA, a radio show hosted by the Cajun Contractor, Michael King: "The BenchtopPRO is the first truly clean parts washer that works".
Available through http://www.thebenchtoppro.com, Use Promo Code: DAD and get an additional $75 off the Father's Day sale price of $299.
The BenchtopPRO kit ships complete with the following items included: The BenchtopPRO parts washer, re-circulating pump and flow-through brush, and (1) gallon of industrial strength, non-hazardous CONCENTRATE Degreasing Solution and (8) MicroPRO Packs - the microbial treatment that has a healthy appetite for tough greases and oils.
● Safe for Skin: No more grimy or smelly hands. Doesn't burn or dry out hands.
● Non-Hazardous: Cleans greasy, dirty and oily parts -- yet non-hazardous and non-flammable
● Safe for The Home and Family: No more smelly, flammable solvents in the garage.
● Easy to Store: Easily stores under a work bench even on its end with the fluid still inside
The BenchtopPRO works on a variety of equipment and parts;
Power Sports Equipment
Bicycles and Bicycle Parts – (works great on wax lubricants)
Motors and Rebuilds
Engine Parts
Lawn Mowers
Grease Covered Tools
Boat Parts
Golf Clubs
Golf Cart Repair
Go-Carts
Racing Equipment
The BenchtopPRO is manufactured by ChemFree Corporation. ChemFree Corporation was founded in 1993, and located in Norcross, GA, and is a subsidiary of Intelligent Systems Corporation, a publicly traded corporation (AMEX symbol: INS). Manufacturing bioremediating parts washing systems, ChemFree Corporation provides an alternative method to cleaning vehicle and maintenance parts without harming humans or the environment. Products currently manufactured by ChemFree Corporation include, The SmartWasher®, SmartBikeWasher®, OzzyJuice® Degreasing Solutions, OzzyMat® (microbial filters), The BenchtopPROtm, BT5 Degreasing Solutions, MicroPRO Packs (microbial cleaning agents) and Concentratetm Soltuion. Uniting superior performance and environmental responsibility, the ChemFree product line is sold in more than 40 countries worldwide. ChemFree holds 27 patents—11 in the United States and 16 in other countries.
#
If you would like more information about this topic, the ChemFree product line, or to schedule an interview please contact Melissa Page-Hale at 770-564-5580 or mjpage(at)chemfree(dot)com.