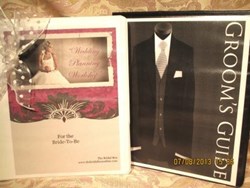 "This workshop provided me with the tools I so desperately needed and was looking for to plan my wedding, and I carried my workbook with me at all times; it was a lifesaver for me and my fiancé."
American Falls, Idaho (PRWEB) August 09, 2013
During recent efforts to revamp its current marketing strategies, The Bridal Box, an online bridal accessories retailer/wholesaler operating in southeastern Idaho, discovered there was a lack of wedding planning workshops in the area, and further research indicated that this fact included parts of Utah, including Salt Lake City. According to statistics released by the State of Idaho, there's at least one marriage performed in Idaho every day with a staggering 13,700 total marriages having occurred in 2011--the latest published record. Nearby Idaho Falls and the surrounding communities in the state captured 20% of this market. It was evident that the field was wide open for The Bridal Box to become the expert and make its mark in this niche.
The wedding season was, at that time, in full swing when owner, Dee Allen, decided to take control. There were only a couple of months remaining within the 'height of the wedding season' and that window of opportunity would soon close; Dee didn't want to waste any time getting started. She rolled up her sleeves, and within a month had developed two separate 3-ring binder workbooks with extensive information for both the bride and the groom, then she bought some advertising.
Within two weeks, there were five wedding planning workshops scheduled with brides, their moms, bridesmaids and fiancés. Dee says the workshops were a big hit, and the groups especially loved the role-playing scripts. Other comments applauded the amount of information and direction that was given and found the workbooks to be well-organized and easy to follow.
Dee's vision was that the workbooks had to be very user-friendly--i.e., they had to contain working pages with plenty of space to make additional notes; pages where one could make corrections without creating messy blotches, and they had to provide detailed information for interviewing vendors, providing pertinent interview questions, creating budgets or keeping track of wedding guests, and providing plenty of do's and don'ts, calendars and check-off lists, and all of this information had to be organized clearly in 3-ring binders.
The workbooks had to be fashioned in a manner that would change a clueless bride and groom into a confident couple and show them how their wedding dreams could materialize a happy ending.
The workbooks also had to illustrate great front-cover graphics indicating that one workbook was definitely for the bride and the other for the groom, and they had to be made available online for those out of the area who wanted good information and clear instruction for their planning process.
With workbooks in hand, workshop attendees were shown how to have fun, stay focused and relaxed while enjoying the planning process. Attendees found the role-playing scripts an ice-breaker as they confronted an awkward situation and learned how to reach a resolution, and they were taught a little trick on how to negotiate for lower pricing for services from a vendor without talking. At the end of the workshop, The Bridal Box introduced a local retailer to speak before the group about their services, sending everyone home with a better idea of where to start their planning process.
"This workshop provided me with the tools I so desperately needed and was looking for to plan my wedding, and I carried my workbook with me at all times; it was a lifesaver for me and my fiancé," says Erica Klein of Pocatello, Idaho.
In 2010, the company set up the online business by offering a one-of-a-kind bride's emergency kit packaged in vintage train cases (The Bride's Case), and has since offered additional products geared towards weddings: its version of the runaway bride (The Bride's Box), wedding favors (Gratitu"teas"), the Silver Sixpence, and other gift items.
The decision to expand the business by offering the workshops has proven to be a good bet. Armed with the current five to six workshops per month, The Bridal Box has definitely positioned itself in this niche and gotten ahead of the competition while continuing to live up to its original mission of helping brides and their grooms with the preparation needed for their weddings. Dee has future plans for The Bridal Box to extend beyond its current region to schedule workshops in nearby cities as the demand grows.
Wedding enthusiasts in the U.S. who are interested in additional information about the workshops or any of the other products offered by The Bridal Box can visit http://www.thebridalboxonline.com or contact Dee Allen personally at 208-269-0109.