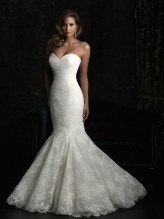 Baldwin, NY (PRWEB) September 04, 2013
The Bridal World is anxiously awaiting their new bridal lines for Fall 2013 and Spring 2014. The Justin Alexander and Sincerity gowns are already in production, and will be arriving shortly at the Salon.
Exciting new necklines are the craze for brides. Whether you want to "cover up", or "show off" on your wedding day, the Bridal World has the gown for you!
Shapes arriving at The Bridal World include The Jewel, shaped like a crew T shirt. This scoop is rounded in front but falls lower than a jewel neckline. Halter usually ties around the neck. This style is a lovely silhouette if you have great shoulders. The salon has great halter gowns that are also perfect as destination wedding gowns. The salon also has Queen Anne necklines. A regal look that usually features a scoop or V neck. The Bridal World has gorgeous lace gowns with this neckline.
The cowl neckline features a loose fitting draping in the front. The salon has amazing Justin Alexander bridal gowns in chiffon with this neckline. This style is the perfect destination wedding dress.
Illusion necklines will be very popular this season. These styles feature sheer fabrics along the top part of the bodice. The pattern can follow to the back of the gown.
The Bridal World was way ahead of these trends. These silhouettes are available at The Bridal World Located at 2473 Grand Ave in Baldwin NY. Call the salon at 516-594-9010 for updates on new arriving gowns