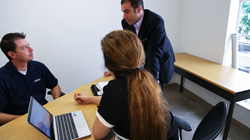 Your accountant can be your partner to build a solid financial strategy.
Coral Gables, FL (PRWEB) March 18, 2015
How many business owners take the time to ask questions like, "What financial decisions did I make this quarter that helped me make a profit or gave me a loss?" Calas Group says that business owners don't have to do this alone. "We are here to help you navigate your business and not only give you the financials you need to make decisions, but to go over those financials with you, so that you understand them and can make informed decisions, based on the numbers," said co-owner, Brian George. "We are here to change the relationship between business owners and accountants."
Their small business accounting bundle includes a regular cost-beneficial analysis and phone calls, as well as in-person meetings or video conference calls (dependent on preference of business owner) to discuss the growth of the business. Calas Group's latest model is summed up perfectly in an Entrepreneur article from March 2nd, 2015, "Your accountant can be your partner to build a solid financial strategy." The article continues, "…a good small business accountant can help you make immediate financial decisions, but also can play a role in your long-term strategy. In fact, according to a  Sleeter Group survey of small business owners, business planning and strategy were the top two services they wished their accountants provided." Calas Group does just that, offering these services as part of their small business accounting bundle.
With sixty years of combined experience, Calas Group has been serving Coral Gables, Jacksonville and surrounding areas for eight highly successful years. In addition to their business services, they offer personal services, from estate planning to elder care, and military and tax services, among others.
Calas Group's headquarters are located at 2000 Ponce de Leon Boulevard, 6th Floor, Coral Gables, FL, 33134. The Jacksonville office is located at 1533 Lantern Light Trail, Middleburg, FL 32068. For more information, please call (305) 495-5222.
About Calas Group
Calas Group is an accounting firm that offers a broad range of services for business owners, executives and independent professionals, with a focus on affordable rates and complimentary initial consultations.
About NALA™
The NALA is a full-service marketing agency providing custom personalized service for small and medium businesses throughout the United States.  
Calas Group PR Contact:
Rafael Brazon-Di Fatta
On The Rocks Marketing & Communications Agency  
786-508-2718
PR Contact: Tiffani Tendell
ttendell(AT)thenala.com
805.650.6121, ext. 361