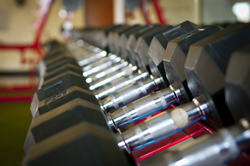 overall health and wellness
Prosper, TX (PRWEB) May 13, 2015
Marcellus Rainey, owner of The Cell, has been a fitness fanatic for over 22 years. He says it is a total lifestyle. He is a former football player as well as a track & field competitor. Marcellus is a distance runner, self-proclaimed "gym rat" as well as Insanity/Insanity, The Asylum/P90X addict. Marcellus and the staff at The Cell see their clients as family and work closely with them to offer the following services for the Frisco, Prosper, and Celina communities:

Elite Performance Training - EPT is all about the development of athletes. The team of trainers were strategically chosen for a particular area of expertise to ensure proper techniques are learned and applied through athletes' various training phases. Together, the trainers assist in developing lasting effects on the athletes, on and off the field.
Personal Training - The Cell's personal trainers are committed to their clients. The success of clients' personal goals are critical to The Cell's success. They help discover clients' goals, what levels the client wants to achieve, and then helps to surpass those goals.
Chiropractic Services - The Cell provides individual treatment for many health concerns. Not only can the chiropractic services help with neck and back pain, but also with overall health and wellness of each client.
Nutrition Consulting – The Cell has certified, degreed and experienced Dietitians, Nutritionists & Wellness Coaches to help make meaningful changes in their clients' lives. The staff will help reach health and wellness goals while creating long-lasting changes and improvements to clients' lifestyles.
Wellness Coaching - Wellness coaching is not just losing weight. The Cell's wellness coaches help clients have overall wellness in their entire life to assist them in becoming happy and healthy.
Youth athletes (ages 6-23 yrs old) involved in any sports endeavor (Baseball, Football, Lacrosse, Soccer, Softball, etc.) can enhance and fine-tune the athlete's skills with The Cell's Elite Performance Training. The Cell has the best youth strength, speed & agility training in North Texas.
While the youth athlete(s) are getting their workouts in, the rest of the family can maintain or grow their fitness level, as well, with the variety of services offered at the specialized workout facility.