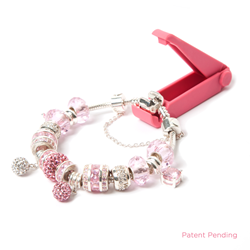 See how easy and effective The Charm Opener is
Los Angeles (PRWEB) March 23, 2015
Making their first television debut, Caterina Jewelry and As Seen On TV have collaborated to create the jewelry company's first commercial broadcast. The commercial will showcase the revolutionary new tool invented by Caterina Jewelry, The Charm Opener. It will air in Miami, Houston, and Atlanta on Bravo, ABC Family, and Lifetime networks.
"We were so excited when As Seen On TV contacted us," says Cathy Barouch, Co-Founder of Caterina Jewerly. "As such a long-standing, reputable company, it was an incredible opportunity we couldn't pass up. The crew and staff were amazing, and really helped us bring our vision to life."
The success of The Charm Opener is what sparked As Seen On TV to make the initial contact. After seeing an industry need for an easier way to open charm bracelets, and put on charms and locked beads, the founders of Caterina Jewelry, Cathy Barouch and Lara Korhammer, invented The Charm Opener.
'Though charm bracelets have been around for years, they've recently reemerged as a growing trend amongst women in North America," says Barouch. "That's why this partnership with As Seen On TV is such a great opportunity for us, as it will create awareness for jewelry retailers and women across the U.S. They'll be able to see how easy and effective The Charm Opener is, and finally provide them with the solution they've been looking for."
The As Seen On TV commercial will air from March 23, 2015 in Miami, Florida, Houston, Texas, and Atlanta, Georgia. The Charm Opener works on all jewelry brands and retails for $25. It is available for purchase across North America to retailers and the general public on http://www.caterinajewelry.com.
To see how The Charm Opener works, visit
https://www.youtube.com/watch?v=rfr759QpG30&feature=youtu.be