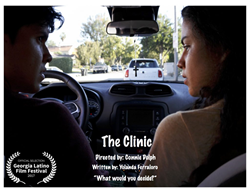 This suspense-filled short film poignantly addresses the nuances of the very human dilemma that so many young girls face
Los Angeles, CA (PRWEB) August 28, 2017
"The Clinic" is a powerful film that centers around Ana, who finds herself pregnant at 17. Her brother takes her to the local clinic for an abortion. As the magnitude of the situation begins to set in, Ana must decide between going through with the procedure or having the baby. What does she choose, and to what consequence? The film forces us to take a look at a hard choice many people have to make, coupled with the personal impact, the mindset of our modern culture and the reactions in present society.
The film was shot over two days, primarily in Burbank, California, but the entire project took close to 7 months from start to finish. The filmmakers approached the project from a nonpartisan perspective. It is not their intent to state an opinion for or against abortion, they just want to show how complicated this issue is, and to start a conversation.
DK Haas, UCSF Alliance Health Project says: "This suspense-filled short film poignantly addresses the nuances of the very human dilemma that so many young girls face. A heartbreaking triumph!"
Kymn Goldstein, COO, Allied Integrated Marketing adds: "The Clinic is a short film packed with suspense and emotion underscoring the necessity for compassion, understanding and open dialogue."
The Clinic premieres on Friday, September 22, 2017 at 8pm at the Georgia Latino Film Festival, which was created by The Georgia Latino Film Alliance. The purpose of the Alliance is to conduct a festival in Georgia that features local Latino directed, produced and acted films, among other national and international entries.
Director/Producer: Connie Dolph
Writer: Yolanda Ferraloro
Director of Photography: Jakub Kalousek
Cast:
"Ana" Andrea K. Torres
"Jorge" Carlos Alfredo Jr.
"Counselor" Aiysha Sinclair
"Mark" Eric Pierce
"Medical Assistant" Megan Krebs
End Title Song courtesy of Current Music
"
About the Director
The Director/Producer of THE CLINIC, Connie Dolph, is no stranger to filmmaking. She has served as Producer, Production Executive, and Line Producer of Film and TV for the likes of Sony, Screen Gems, ABC, CBS, Showtime, A&E, Lifetime, Oxygen, WE, OWN, Food Network, and Machinama. THE GATEKEEPER, a film she produced, was a multiple 2002 festival award winner. THE CLINIC marks Ms. Dolph's second foray directly behind the lens, with her first short film as writer/director, TAYLOR WARREN, garnering a Best Actress nomination at the A.O.F. Film Festival.
"
About the Screenplay
Yolanda Ferraloro, partner at Music Rightz, Inc. (music clearance, consulting and publishing administration company), started her career working in television production and development at Walt Disney Studios and Warner Bros., before joining Music Rightz in 2003. Yolanda's writing credits include "Maybe It's Me" a Warner Bros. sitcom. She served a fellowship at both FOX Diversity Writers Program and NALIP Writers Lab. The Clinic is Yolanda's first short film script.
Media Contact:
Yolanda Ferraloro
+213 952 5146
TheClinic.shortfilm(at)gmail(dot)com