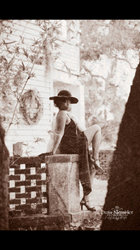 Paradise is always where love dwells Jean Paul Richter
Orlando Florida (PRWEB) February 03, 2015
Share Kyles is a young beautiful woman from Melbourne Florida. She is currently starring in the Musical "THE COLOR PURPLE" under the direction of Hank Rion. She has taken on the sultry character of Shug Avery where she breathes life into the show and electrifies crowds in Melbourne's own Henegar Center.
Shara brings the energy to a show that will have you remembering her name and the production for years to come.
Recently we got the opportunity to interview the beautiful young star.
RM: At what age did you start performing and how has it influenced you today?
Shara: I started performing at the young age of five. I used to sing in front of a local R&B group that lived down the street. It's a memory I keep because since then I have never been afraid just to be prepared to perform.
RM: Who is your biggest influence?
Shara: My sister is my biggest influence. She is everything I am not, she is thoughtful and patient. I am still learning how to be both. She is younger than me but just so wise beyond her age. I learn a lot from my sister everyday.
RM: What is your biggest personal struggle?
Shara: My biggest personal struggle is my temper. I'm the type to hold it all in and explode/implode later. It does not always make for a great ending. I'm getting better at laughing it all off now.
RM: How did you land the role of Shug Avery in "THE COLOR PURPLE"?
Shara: I was encouraged by Hank [Rion] to audition for the show. I requested to play the role of Shug Avery on my audition application. I felt I was the person that could bring her to life on the stage. Shug has intelligence and sex appeal and I think I know how to highlight her great attributes instead of her obvious flaws.
RM: How do you relate to the role of Shug Avery?
Shara: I relate to Shug because even through a lot of turmoil I've found self love that I believe Shug had throughout her dark moments in the story. Even with her frowned upon ways she still manages to teach Celie about self love being the greatest love."
RM: What do you enjoy most about playing the role of Shug Avery?
Shara: I love portraying the racy character in a time where it was unheard of for a woman to assert herself in every way. There's so much risk in taking on a role with so much controversy about what is acceptable behavior for a woman."
RM: What gives you the drive to perform?
Shara: My mother's memory gives me the strength to perform the way I do now. I lost her in 2013, and I have a new found sense of purpose since my last performance in 2009.
RM: What advice would you give to your 12 year old self?
Shara: I would tell my 12 year old self to keep on keeping on and you can do anything as long you have the will to do it. Hindrances just make for an exciting trip to the finish line.
RM: Do you have any future plans and goals?
Shara: I plan to audition for more shows and to pursue other avenues in entertainment that I can showcase my talents.
Shara Kyles a talented beautiful actress with a voice that can make angels cry, if you are in the Central Florida area and want to see her and the rest of the cast perform make sure to catch the last weekend of performances. "The Color Purple" is showing Friday and Saturday February 6th -7th 2015 at 8:00 pm and Sunday February 8th 2015 at 2:00 pm. Ticket purchases are available online by visiting henegar.org, directly from the Henegar Center box office M-F (1-5PM), or by calling 321-723-8698.