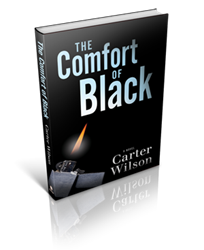 "The Comfort of Black is anything but your average thriller. It's an exemplary thriller. A knock-your-socks-off- thriller." —M.J. Rose, New York Times best-selling author of The Witch of Painted Sorrows
Longboat Key, FL (PRWEB) August 04, 2015
THE COMFORT OF BLACK by Carter Wilson is now available in hardcover (978-1-60809-129-4, Thriller, 288 pages, $26.95) and all digital eBook platforms (978-1-60809-147-8. $14.95)
Advance Praise...
"Hannah Parks, the heroine of Carter's outstanding paranoid thriller, is the tightly wrapped and semi-alcoholic but nevertheless determinedly happy wife of Dallin, a rising Seattle Internet-security entrepreneur—until Dallin mutters words in his sleep that suggest he's a sadistic murderer. Then everything falls apart. None of the certainties in Hannah's life can be trusted: all the people around her are potential traitors, and she isn't safe anywhere. She even suspects that the personable and ultracompetent man who calls himself Black may have come to her rescue a bit too conveniently. Hannah's brutal childhood makes her believably vulnerable, and Carter (The Boy in the Woods) is extremely good at creating a series of shattering, Philip K. Dickian revelations that would rock anyone's personal security. The explanation for all the devious plotting, perhaps inevitably, is somewhat anticlimactic, but readers still will be absorbed by Hannah's struggle to understand what has been done to her and to re-create a sane life."
—Publishers Weekly (Starred)
"Here's a thriller that thrills, a mystery that mystifies. And it confirms your sense that everyone but you knows what's really going on, and your best friend is awaiting the proper time to insert the knife. Hannah Parks had a troubled childhood—a brutal father and a mother who died of hopelessness—but things have smoothed out. Her millionaire husband adores her. So why has he taken to ranting in his sleep about sadistic sex? Shocked, Hannah sneaks a look at his computer files. What she sees is followed by something worse: he catches her looking. They separate and suddenly Hannah is encountering men in black who know a lot about her. Do they wish to help? Why? And why must help involve gunfire, even killing a cop? Midway through, a layer of reality is peeled away and we, along with Hannah, must distrust everything we see. More illusions appear and vanish, until somehow Hannah is reliving her miserable childhood. Revelations in the final pages may strain credulity, but never mind. Getting there is great fun."
—Booklist
"A rollicking pace, complex characters, skillful turns of phrase, and evocative imagery make this book enjoyable.
Carter Wilson's The Comfort of Black is a superior thriller full of unpredictable twists. Themes of the repetition of history, familial dirty secrets, and one woman's journey to self-empowerment cruise deftly through this novel's suspenseful scenes.
In addition to its rollicking pace and complex characters, the book's turns of phrase and evocative imagery make it enjoyable. Hannah's premarital fling is "a romance that lasted not much longer than the flowers." A promontory is described as "a snake of land." Hannah thinks of the color black: "She could hide in [it]. Wrap it around her." Thriller aficionados, especially women, will wrap themselves in this novel's pages with gusto."
—ForeWord Reviews
The Story...
Though they seem to have everything, Hannah Parks has watched her husband, Dallin, become increasingly distant. Her hope is buoyed when the couple decides to start a family, but what Dallin reveals in his sleep one night rocks Hannah to her core. As she starts to investigate a much darker side of Dallin than she ever knew existed, Hannah peels away the layers of a diseased relationship closely tied to her own abusive past. When Dallin attempts to have Hannah abducted, she is forced to run, doing so with the aid of a man named Black—an ex-con and expert at helping people disappear. Together they must keep Hannah safe from her husband's far-reaching grasp, all the while trying to solve the mystery behind Dallin's sudden violence. Does Hannah's dark family history hold the key to her survival?
THE COMFORT OF BLACK is available through booksellers and public libraries everywhere, and is distributed by Baker & Taylor, Ingram, Bookazine, OverDrive, and better literary distributors everywhere.
For author interviews or review information, please contact David Ivester at davidi(at)oceanviewpub(dot)com.