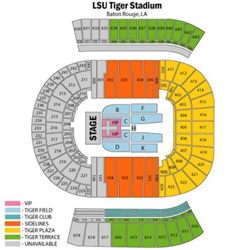 (PRWEB) December 21, 2013
On May 23rd, 2014 in Baton Rouge, Louisiana, George Strait will be onstage at LSU's iconic stadium after what promises to be two amazing performances by opening acts by singer/songwriter Chris Young and the reigning queen of country music, the multi-talented Reba McEntire.
Tiger Stadium in Baton Rouge, Louisiana is undeniably one of the very best venues to see a college football game in the U.S.: Unless, of course, you're opposing the LSU Tigers, at which point you'll find yourself in a veritable pressure-cooker. When LSU isn't on the field, Tiger Stadium is a truly great place to see a concert, especially when that concert is one of the legs of "The Cowboy Rides Away" tour, headlined by country music's king George Strait.
Named after the best-selling single, "The Cowboy Rides Away," the second leg of George Strait's final two-year tour, has gained incredible momentum, not only because of his allegiance of loyal fans, but also due to the amazing line-up of special guests. Country music fans have been thrilled to see not only George Strait, but a host of incredible co-performers including Merle Haggard, Vince Gill, Jason Aldean and Lee Ann Womack. In many cases, tickets for this tour have sold old within hours of their announcement. Don't delay; get your tickets at Ticket Monster now before they're gone.
Table of Contents:
1. "The Cowboy Rides Away"
2. Reba McEntire | Chris Young
3. Tiger Stadium
4. Parking & Directions
1. "The Cowboy Rides Away" is the final installment by country music Patriarch, George Strait. Recorded in 1985, this hit single was written by Casey Kelly and Sonny Throckmorton and is traditionally performed by George at the end of every concert. In this case, this song about a failed relationship has a positive connotation as it marks country music's king departure from actively touring the world. Selling nearly 65 million records, the newly turned 60 year-old has produced one album per year, sometimes two, in his journey to the top of country music's Billboard Charts.
2. Reba McEntire is not only one of the most dynamic performers in the history of country music; she is a two-time Grammy Award recipient who has been awarded 13 Academy of Country Music Awards, 9 Country Music Association Awards and has sold 56 million records worldwide. Her song, "Consider Me Gone" remained at #1 for nearly 4 weeks and marked her place in country music history as one of only four women who've had a #1 hit single occupy the top spot on the charts for over 3 weeks. In addition to being a huge success in country music, Reba is an entertainment and business mogul, carving out an empire based on fashion and home collections while also starring in not one, but TWO #1 television sitcoms.
Chris Young's entry in to the world of country music scene was expedited rather quickly when he was declared the winner of USA Network's 'Nashville Star' in 2006. Immediately after winning, he was signed by RCA Records and produced his self-titled debut album. "Voices", Chris' first song to break in to the Top 40, was a song that he self-promoted by emailing it to the visitors of his booth at the CMA Music festival. Re-released in 2009, it went straight to #1 earning him the 2011 'Single of the Year' at the American Country Awards. He also won 'Breakthrough Artist of the Year' at the same award ceremony.
3. Originally built in 1924, Tiger Stadium has quite an amazing history and has been known as the very worst stadium in which an opposing team could ever play, hence the nickname "Death Valley". Famed Alabama head coach Bear Bryant was quoted as saying, "Baton Rouge happens to be the worst place in the world for a visiting team". Home to the Louisiana State University Tigers, the stadium has been expanded 19 times within its history and now has a seating capacity 8 times greater than its original configuration. Fans of Tiger Stadium will tell you that there is no better place to see a game or concert as there's something magical about the environment. In the summer of 2014, Tiger Stadium will become the 7th largest in the U.S. once its privately funded expansion is completed.
4. Parking & Directions: There's plenty of good parking to be had at Tiger Stadium, including permit parking for RV's. Parking on the LSU campus is first-come, first-served, except in lots and streets with reserved spaces. LSU does have a unique and nature-preserving caveat regarding parking: They ask patrons to never park on any root system, no matter how small, of any of the trees. LSU has a beautiful campus with a lot of natural beauty so they ask that everyone does their part to preserve their historic oak trees.
Tiger Stadium is located at North Stadium Drive, Baton Rouge, Louisiana, 70803. For the finer details on accessing this historic location and its parking, click here.
Don't miss your chance to experience this country music event at the historic Tiger Stadium. To reserve your "The Cowboy Rides Away" tour concert seats, visit Ticket Monster. There are never any surcharges or fees, plus we provide our customers with the easiest access to experience every event that Tiger Stadium offers, as well as every other major concert venue in the U.S.
For more information, call 866-217-4777, or visit TicketMonster.com.