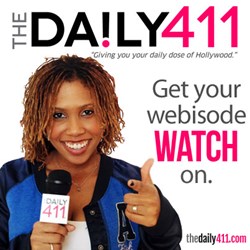 The Daily 411 - "Giving you your daily dose of Hollywood"
Chicago, Illinois (PRWEB) December 05, 2013
TheDaily411.com is an urban and hip Hollywood gossip and entertainment website that gives readers daily news on the lifestyles of the rich and the famous. Breaking celebrity news, recapping some of Hollywood's star-studded events, and providing webisode content of updated news makes The Daily 411 the leading voice for current entertainment news among younger audiences. The website covers a wide array of topics, including award shows, movies, music, fashion and the lives of the stars.
Using social media as the major source to communicate content, the young entertainment site has established a lot of ground with its target audience since launching earlier this year. Social media followers can find the site on Facebook, Twitter, Instagram, WeHeartIt, YouTube and even Tumblr. Each social channel has added growth for the news source and contributed to a strong following for the website.
The Daily 411 started as the side project of two sisters and sparked attention among teens and young adults, allowing the effort to grow into an up and coming gossip news website on the Internet. Working as the dynamic duo, Cyan Taylor and Cannon Hunter both write content and produce monthly webisodes recapping the top gossip news stories that made headlines during the month. On-air host Cyan is featured in each webisode, walking the audience thru the exciting lives of Hollywood celebrities. Cannon is seen primarily through her talent in filming and editing each month's video. The dream of the two to report on entertainment news brought TheDaily411.com to life.
Celebrity news and gossip are powered by the interest of the fans; they're hungry for the content that TheDaily411.com provides. Engaging the target audience through the outlets they visit daily makes the site attractive for celebrity PR marketing firms.
As a self-proclaimed media source, The Daily 411 attracts trendsetters who want to stay up to date on what's hot in Hollywood. The target audience reaches adolescents, teens, and young adults ages 16 to 35 from around the world. On average, TheDaily411.com receives 3,723 impressions and has 1,929 monthly users. The readers have the ability to view breaking news not only on the website, but also through their hubs on social media platforms Facebook, Twitter, Tumblr, Instagram and YouTube.