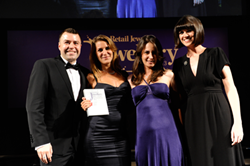 We are honoured, proud and privileged to have won this award and heard such great feedback from the judges to only help us excel further in the next coming year
(PRWEB UK) 15 August 2013
The Diamond Store took home the plaque for Etailer of the Year at this year's Jewellery Awards, now in its 20th year. Not only are the awards the most reputable in the industry, it was the first year to date that a brand without a 'bricks and mortar' store won the award, setting a benchmark for years to come. The judges quite simply said 'it is rare to give a company the top score, but this company deserves it'.
The award criteria was based on excellence in web design and ease of navigation, innovative marketing and promotions, customer service, unique value proposition, online technology, and evidence of online growth. With online commerce taking the world by storm, The Diamond Store has had to adapt to the 21st Century using innovative social media, video and customer review ideas to excel. Judges explained that the company 'stand head and shoulders above others who are doing the same thing and are an example to the industry'.
The Diamond Store brings people online a sanctuary of luxury jewellery, turning any special occasion into a memorable one. Each item is part of a bigger story, and The Diamond Store makes that story complete. They engage with customers at every step of the way and simplify the process, whether purchasing a ready-made or a specially designed piece.
As the UK's largest online diamond retailer, they have not only excelled in customer satisfaction and online trading 98% of the time, but the company also makes sure to deliver personalised customer service by having someone at hand for any query or question. The quality Youtube clips and imagery prevalent in their website are also a welcome enhancement to customer assistance provided.
The Diamond Store's ethos is to gain trust from the customer, which in turn generates confidence when buying.
Their fully trained team understands that jewellery is an investment, but recognises the cost of such luxuries, so they cut out the high street costs; there is a choice for each individual. There is no pressure to buy, and browsing the collections can be done as many times as preferred (without the guilt of annoying a shop assistant). A live feed of what other people are thinking about can also be seen in the website for inspiration. Asking one of their personal shoppers for advice is an easy matter too.
Gary Ingram says, "We are honoured, proud and privileged to have won this award and heard such great feedback from the judges to only help us excel further in the next coming year.''