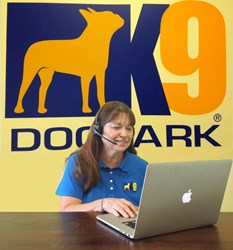 The place dogs love to stay while their owners are away!
Escondido, CA (PRWEB) January 29, 2014
K9 Dog Park is the one-stop shop for dog lovers in Southern California who want to pamper their canines. Effective Monday, February 3, 2014 K9 Dog Park, clients will be able to drop off their dog or have him/her picked up by K9 Dog Park Staff for boarding and daycare. Once the dog is at K9 Dog Park, the client has the option to add training or grooming to the stay.
With regard to becoming a "destination business", K9 Dog Park owner Penny DiLoreto stated: "The addition of doggie daycare and boarding is the fulfillment of five-years in planning for our business. No longer does the dog have to be a bother for our client's busy schedule. Just drop him or her off at K9 Dog Park and we will take care of the client's marvelous dog with daycare or boarding but we can also add grooming and training as needed. And, when the client has a heavy schedule or it is inconvenient, just arrange for us to pick up or drop off your pet."
While staying at K9 Dog Park a dog can be groomed in the spa or trained for obedience, aggression disorders, agility, snake avoidance, therapy dog, or many specialized needs requested by the client.
K9 Dog Park is the leading dog training, grooming, daycare and boarding center for southern California. K9 Dog Park is the pioneer in advanced training techniques for dogs and their owners including snake avoidance training without the use of shock-collars; Behavior Adjustment Training for reactive dogs; "The Magic Wand" dog training system, and "La Paws" training to help create a safe environment for infants, toddlers and the family dog. K9 Dog Park owner, Penny DiLoreto has more than 20 years working in the industry. Penny is a certified groomer, certified Veterinary Assistant, Dog Behaviorist, Dog Trainer and accomplished Author. K9 Dog Park is a training site for Animal Behavior College-Groomers and Dog Trainers and Regional Occupational Program (ROP).