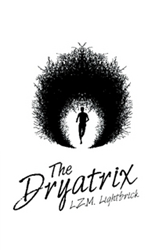 MINNIGAFF, Scotland (PRWEB) May 27, 2016
George is young, impaired and completely alone. He is responsible for the death of his parents and the reason why one inquisitive Faun needs to protect him. Maliciously treated by his stepfather, George wears the scars of his torment across his back. He cannot escape his stepfather. But when he peers through the window of his stepfather's shack one night, he sees something strange: an earless creature in the middle of the street. Intrigued by it, George saves it from the road, and the next thing he knows, he's in the middle of nowhere.
Before he can enjoy his freedom, however, George is forced into a fiendish forest where he crosses paths with a Witch, Tamsin, and witnesses the callousness of nature as it turns on them. Evading death, George and Tamsin are saved by Thumbalas, a Faun, who identifies George as the Dryatrix: a prophesied force said to be the saviour or destroyer of the natural world. Struggling to comprehend his fate, George must choose between a hero's destiny or the life of a coward.
L.Z.M. Lightbrick's "The Dryatrix" (published by Lulu) is a story about a young boy with supreme power who is forced to acknowledge the cruel terms of his prophecy and accept responsibility for the path he takes. Everything rests on his decision.
An excerpt from "The Dryatrix":
"When your existence becomes apparent, news will generate precipitately around to all ears, and then you will be known by all. You will not be safe wherever you tread. And where you tread, you jeopardise everything."
"The Dryatrix"
By L.Z.M. Lightbrick
Hardcover | 6 x 9 in | 282 pages | ISBN 9781483438405
Softcover | 6 x 9 in | 282 pages | ISBN 9781483438382
E-Book | 282 pages | ISBN 9781483438399
Available at Amazon and Barnes & Noble
About the Author
L.Z.M. Lightbrick resides in England.