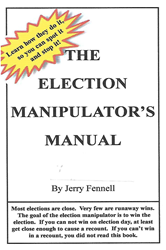 (PRWEB) September 21, 2016
Jerry Fennell believes that the right to vote and the integrity of the ballot are fundamental premises of the democratic system of government. In his book, "The Election Manipulator's Manual" (published by Lulu), he motivates every citizen to exercise their duty and be vigilant in making sure the election laws are administered, encouraging complete public confidence in the process of nominating and electing candidates for public office. Trump says that elections are rigged. With this book, Fennell wants readers to make sure their precinct is not.
Through this book, readers are given a glimpse into the tricks and ploys commonly used by many political activists to manipulate elections. It teaches them how to spot and stop those actions. Fennell reveals politicians' favorite tried-and-true tactics, including manipulating meetings, primaries, nominating conventions; gerrymandering, voter registration and more.
An excerpt from the book states, "Common wisdom says not to bite the hand that feeds you. But what if that hand is a corrupt politico peddling poison?" The author makes sure that readers does not only get and understand the how but also the mindset behind election manipulation.
"Your future, and that of your children, is in your hands," Fennell says. "The Election Manipulator's Manual" makes this possible for readers to safeguard their votes, save democracy and ensure their future."
"This book is a game changer," Fennell adds. "It's now up to you to save this country."
"The Election Manipulator's Manual"
By Jerry Fennell
Softcover | 6x9in | 140 pages | ISBN 9781365349638
Available at Amazon and Barnes & Noble
About the Author
Jerry Fennell was born and raised in Charleston, South Carolina during the 50s, 60s and 70s. He protested a student council election in the ninth grade which he believed was rigged by the teacher advisor. He was almost expelled for a year for that activity, but he was invited to join the High School Teenage Republican Club. He became the president of the club a year later. When he turned 21, he was the first republican clerk in Precinct 7 (Downtown Charleston Precinct) since Reconstruction. That experience started a lifelong battle against election fraud. He fought several of them in South Carolina, Texas and Michigan. His website, http://www.jerryfennell2016.com, is dedicated to helping his fellow countrymen to build a better precinct organization and not a political machine. Fennell is married with two adult children.