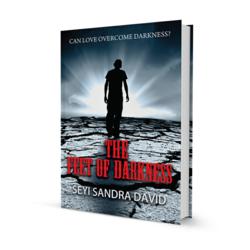 ''Peace must have a fertile ground to flourish, and only love can produce lasting peace.''
London, England (PRWEB UK) 3 July 2013
The Feet Of Darkness is set in London, Nigeria and Israel. The story began with the mysterious disappearance of a British scientist, Michael Crest, whose wife, Evelyn, immediately suspected foul play. Events quickly spiraled into an intercontinental search but the elusive scientist remained lost. But, that was not where the story ended. The author deftly took the reader to Nigeria and Hammed Khalif emerged, full of hatred and anger. He threw himself into planning the complete obliteration of America and her close allies such as Britain and Israel. His ruthless terrorist cells unleashed terror on harmless civilians and he was determined to cause a lot of pain within a short period. He was not alone in the quest for blood; the Nigerian Head of state, General Yakub Adams was a joint collaborator in their campaign of mayhem.
Unexpectedly, Hammed fell in love and his life changed drastically. Seyi Sandra took the reader into the complicated world of religious bigotry and fanaticism; she also delved into the supernatural world of angels and demons, exposing ancient secrets known to a few curious minds. The closure of the first age was looming closer as Lucifer and his angels' unleashed unprecedented terror on people. The supernatural aspect of the novel was unveiled when winged beings were locked in vicious combat, embroiled in an eternal battle. It was now a battle for the sustenance of humanity. The novel exposes the battle for the soul of man and the incredible beauty inherent in forgiveness.
Seyi Sandra David writes with conviction and clarity of mind. She believes that love can change a twisted mind, or a vengeful world. Seyi sought to destroy the veil of darkness that makes people believe they can avenge a death, or a wrong. She wanted the reader to believe in forgiveness. When asked if some sins are beyond forgiveness. She disagrees.
''I don't think so.'' She stated categorically that love could wipe away many sins.
What about the recent murder of Drummer Lee Rigby by an Islamic extremist? Can the family forgive the horror inflicted on them?
''That is a very sad story, the crime was extremely horrific in nature,' says Seyi Sandra, 'but they can still forgive, thereby moving on with their lives. The pain would still be there but time ultimately lessens the pain of such tragedies. Mind you, forgiveness is a very difficult process but it releases the victim from living a life of continual bitterness and hatred.''
She further stated that only love could help salvage a world teetering towards destruction, adding, ''God is love, and when you find love, you'll find peace and safety. The problem with Islam is this, several times, most of their clerics claim that Islam is a religion of peace, but is it a religion of love? You can be at peace with your neighbor and not necessarily love them. Peace must have a fertile ground to flourish, and only love can produce lasting peace.''
About The Author
Seyi Sandra David loves to write and she has done that for several years. She has worked as a reporter, teacher and accountant. She had a brief stint as an actor at the university before she finally decided to write novels full time. She is a committed blogger and a columnist for Black Heritage Today, a London based Magazine. Her first novel, 'The Impossible President' sold out of its first print run in 2004. She wrote a short story, 'Tales of Five Lies,' which gripped readers worldwide. 'The Feet of Darkness: Can Love Overcome Darkness?' is her second novel. Arrow Gate Publishing would release her upcoming novel, 'Cydonia: Rise Of The Fallen' in October.
The Feet Of Darkness is now available online from Amazon and all good book stores priced £8.99 in paperback, £9.99 in paperback Large print and £5.96 (Kindle).
ISBN: 978-09575930-1-5
Pages: 360pp
Publisher: Arrow Gate Publishing Ltd
RRP £8.99
Also available on Kindle
http://www.arrowgatepublishing.com
About Arrow Gate Publishing
Arrow Gate Publishing is a family owned, mainstream publishing organization based in London, which started publishing fiction and nonfiction titles from January 2013. The company is completely dedicated to writers in every sphere of their operation. The managing editor, John David, declares that their mission is to seek out relatively unknown authors and help them realize their dreams of literary success.
For interview and more information, please visit arrowgatepublishing.com or contact Christy Nelson at arrowgatepublishing(at)ymail(dot)com or call +44(0)7446026776
To learn more about Seyi Sandra David visit http://www.seyisandradavid.org or follow her on twitter https://twitter.com/seyi_sandra.