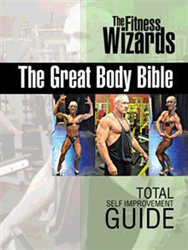 LUTON, England (PRWEB) October 28, 2014
In their highly informative, eye-opening new book, "The Great Body Bible" (published by AuthorHouse UK), authors Julie and Gary Walsh, the Fitness Wizards, combine their passions of writing and reading, personal growth and teaching to inspire readers to be their personal best in every way. This book serves as an insightful tool that delves deep into the aspects of health, nutrition, fitness, physique and personal development to improve the reader's life.
In taking bodybuilding beyond the physical and including the realms of mentality and morality, this book addresses the many sides of humanity and motivates readers to define and take on some personal challenges. Motivated by their life experiences, it encourages readers to take part of their journey in achieving a renewed love for life. Venturing much further than the run-of-the-mill health and fitness book, it illuminates altering one's philosophy and mindset to attain success and personal development.
"The Great Body Bible" is both a self-improvement guide and reality book that deals with how one might live life based on their personal trials, errors and real life experiences; steering readers into reaching their personal best.
"The Great Body Bible"
By The Fitness Wizards
Softcover | 8.25 x 11in | 746 pages | ISBN 9781496991553
E-Book | 746 pages | ISBN 9781496991560
Available at Amazon and Barnes & Noble
About the Author
The Fitness Wizards are Julie and Gary Walsh, a husband-and-wife team for over 30 years. They are parents and grandparents. They have more than 30 years of experience in the fitness industry as club owners. In their late 40s, they hit rock bottom, a particularly turbulent period in their lives, compelling them to make wholesale changes. Both attended university at an age when most people are considering early retirement. They achieved first-class honours in Sports Studies (Gary), English and Education (Julie). Both have also successfully completed 12 weeks mentor training with Greenhouse mentoring in the UK.
Using the model of success that they had maintained in their fitness and physique-building world, throughout the bad times, even during the period when it seemed the rest of their world was evaporating before their very eyes, they made changes to every other part of their thought processes. They adapted the rest of their lives using the highly positive physical health and fitness paradigm that had given such stability to their turbulent lives when they needed it most.
AuthorHouse UK Ltd., an Author Solutions, LLC self-publishing imprint, is a leading provider of self-publishing, marketing, and bookselling services dedicated to serving authors throughout the United Kingdom. AuthorHouse UK is committed to providing authors the best self-publishing experience through a wide array of products and services designed to help individual authors realise their unique creative vision. AuthorHouse UK assigns each author a personal publishing, marketing, and book consultant to provide professional guidance throughout the self-publishing process. To date, AuthorHouse UK has released more than 6,500 titles. For more information or to begin publishing a book today, visit authorhouse.co.uk or call 0800 1974150 or follow @AuthorHouseUK on Twitter for our latest news and updates