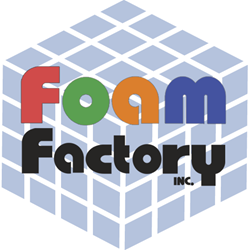 For people like college students who have a tight budget but are losing sleep due to their uncomfortable college-issue beds, this addition to our mattress line is a win-win!
Macomb, MI (PRWEB) October 07, 2014
The Foam Factory, a leading supplier of fantastic foam products to the United States and Canada, is announcing an exciting new expansion of its conventional foam mattress line. Customers shopping with The Foam Factory can now choose from seven standard mattress sizes in six different open-cell foam types.
This expanded size selection makes it easier to find a mattress that fits your bed, without having to spend an arm and a leg on a custom-size. "We're excited to announce the expansion of our mattress line to seven standard sizes," said Sal Badalamenti of The Foam Factory. "More people can now get superb comfort from a high quality foam mattress without paying extra just to have something that fits their lives."
In addition to the Twin, Full, Queen, King, and California King mattress foam sizes, there will now be XL versions available of the Twin and Full, adding an extra 5" of length to the mattress. These longer cuts offer extra room for taller individuals, and are great in guest bedrooms where you'll have people of all different sizes visiting. The new Twin XL measures 39"x80", while the Full XL is 54"x80".
"Twin XL mattresses are particularly popular in college dormitories." explained Sal Badalamenti. "Part of the reason customers choose foam, aside from comfort and support, is the low-cost alternative to heavy-duty mattresses. For people like college students who have a tight budget but are losing sleep due to their uncomfortable college-issue beds, this addition to our mattress line is a win-win!"
Foam mattresses take the one-size-fits-all mentality of traditional bedding and turn it on its head. Available in many different firmnesses, foam bedding can even be layered with different types of foam to create a completely unique and customized sleep surface. This also means you can build a mattress that gives you the height you want, in addition to the comfort and support you need. Whether you like an ultra-soft, luxurious bed, or a firm, super-supportive one, there is a foam type that can address your needs.
By adding these two XL varieties to their standard-stock inventory, Foam Factory is able to offer them at a savings over their former custom-cut status, since they don't have to be made to order. You can even see the savings for yourself on their website. Using the custom-cut mattress calculator they offer, you can enter in the dimensions of a Twin XL or Full XL mattress and compare it to the standard size price listing. All of Foam Factory's conventional foam cushion types are included in this mattress line expansion, from cost-effective Poly Foam, to high-density HD36 High Quality, and many more! These standard sizes can be purchased in thicknesses ranging from 1" to 6", in whole inch increments, and Foam Factory has also introduced a 1/2" thickness for their Poly Foam, Lux High Quality, and Lux Regular foam mattresses, for even more customization possibilities.
About The Foam Factory
The Foam Factory has been a global presence in the foam industry for more than 30 years. Customers can choose from a variety of rubber, foam, and sponge products for use in home or industrial applications. The Foam Factory sells packaging, pillows, bedding, furniture padding, and more, both online and at its brick-and-mortar location in Southeast Michigan, open to the public.