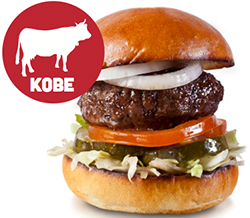 It is always exciting to work with a new fresh brand. Burgerim should make an easy transistion from Israel to North America.
Tampa, FL (PRWEB) August 29, 2013
Burgerim, an Israeli based franchise, has recently launched the franchise opportunity in North America.
Burgerim has 62 franchises throughout Israel and offers smaller burgers so customers can mix and match flavor combinations. Burgerim offers an array of gourmet toppings, sides, spread and salads that appeal to a wide audience. Burgerim opened its first North American location in West Hollywood, California and has engaged the services of The Franchise Sales Solution to assist in the development and growth of the franchise program.
Burgerim's mission is to offer the world a better kind of burger and revolutionize a classic favorite, using fresh, all-natural and hormone-free ingredients and spice it up with a Mediterranean twist. In a unique twist, Burgerim will bring a successful franchise concept from Israel to North America, instead of the more traditional successful North American brands expanding internationally into Israel.
The Franchise Sales Solution works with a diverse group of franchise companies, but were intrigued with this concept, "frankly, there are tons of burger concepts on the market, but Burgerim is really doing something different" said John Armatas, Principal at The Franchise Sales Solution. "They have taken the basic burger concept and offered an all-natural, wide selection of burgers and infused it with their heritage and love of the Mediterranean."
The successful West Hollywood location will make the transition to franchising in the United States very smooth. For additional information on the Burgerim Franchise Program, contact John Armatas, at 855.844.8377.
ABOUT THE FRANCHISE SALES SOLUTION8
The Franchise Sales Solution, is a Tampa based franchise sales and development company. Each partner has owned and operated both small business and franchise operations and has a unique understanding of the challenges that entrepreneurs face in growing their companies. For additional information on the franchise systems they represent or to discuss their services contact, John Armatas at 855.844.8377.