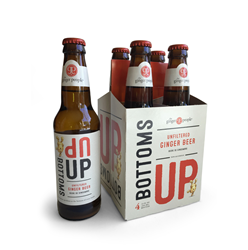 "We didn't change our ingredients," adds Leeson. "But we did make a few upgrades."
Marina, California (PRWEB) March 22, 2016
From the people who know ginger best comes a hip new look for their award-winning* ginger beer. Bottled in California through a strategic partnership between The Ginger People and Gordon Biersch Brewing Company, Bottoms Up targets ginger beer purists.
Made with single origin ginger and one of the cleanest ingredient lists in its category, Bottoms Up stands out in terms of pure ginger flavor. By not filtering, blending, using extracts or adding confusing fruit juices, Bottoms Up offers consumers a classic ginger beer option. The authentic flavor of Bottoms Up also makes it an ideal mixer in today's increasingly popular ginger cocktails. Satisfying consumer needs, the company also lowered the sugar content of its ginger beer just a touch (and corresponding calories). Bottoms Up rolls out to stores nationwide this month.
"Staying fresh and embracing change is a big part of what makes our industry fun," says Bruce Leeson, founder and president of The Ginger People. "We've been making ginger beer for more than 15 years and felt it was time to freshen things up with branding that celebrates the bold personality of our ginger beer."
"We didn't change our ingredients," adds Leeson. "But we did make a few upgrades." On top of cutting the sugar content, the company made the switch to pry-off crown seals to "maintain the highest quality (and optimum oxygen barrier)." Used in craft breweries worldwide, pry-off crown seals are a sign of premium quality.
*The Ginger People's ginger beer was the first one in its category to win the coveted "Outstanding Beverage" award from the National Association of the Specialty Food Trade, New York in 2000.
About The Ginger People: Family-owned-and-operated, The Ginger People was established by Australian Bruce Leeson in 1984 to promote the goodness of ginger. Today, Ginger People Group owns the most award-winning ginger brands in the world and is the preeminent purveyor of value-added ginger food, beverage and dietary supplement products. The company remains true to its original vision: increase awareness of ginger, both for its vast culinary talents and healthful benefits, through innovation and community.
Press product samples, creative assets, brand and product information can be requested via info(at)gingerpeople.com. Also visit: gingerpeople.com