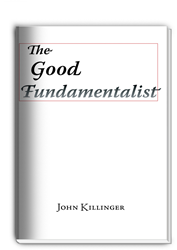 Now is the time for pastors to read The Good Fundamentalist because I think it will help them to focus on the way individuals are when they're caught in the dilemma of what to do about the homosexual issue. ~ Rev. Dr. John Killinger
Washington, DC (PRWEB) September 30, 2014
Intermundia Press announced the release of The Good Fundamentalist, (Intermundia; $19.95; ISBN 978-1-887730-39-6), a groundbreaking novel that addresses the controversial and timely topics of homosexuality, same sex marriage and the church.
Author, minister and theologian Rev. Dr. John Killinger sets his latest novel in small town Kentucky and explores the crisis of faith and flock surrounding a fundamentalist Baptist minister as he faces the reality of homosexuality and same sex marriage in his own family - the very issue currently shaping the future of the modern day United Methodist Church as it contemplates dividing the denomination.
"Now is the time for pastors to read The Good Fundamentalist because I think it will help them to focus on the way individuals are when they're caught in the dilemma of what to do about the homosexual issue," said Killinger. "Until one knows these people who are the object of this vendetta, people cannot really make a fair judgment and they cannot see it as Christ would see it. The people who are against homosexual marriage are usually the people who don't understand homosexuals. They come out of our families, they have the same needs, the same wants, they just happen to have a different sexual orientation. And to me it's a travesty on the ministry of Jesus for us to get our knickers in a twist over this issue."
About the Author
Noted minister and theologian John Killinger has pastored the First Congregational Church of Los Angeles and the famous Marble Collegiate Church in New York City. He has also held tenured positions at several prominent universities lecturing on Religion and Culture. A sought after speaker and religion pundit, Dr. Killinger is the author of numerous fiction and non-fiction books including Outgrowing Church (Wipf & Stock) and What the Blind Man Saw (Intermundia Press).
Review Copies & Author Interviews
Requests for review copies, author interviews and speaking engagements can be made by contacting Brand Spoken Communications at mediarelations(at)brandspoken(dot)com.
About the Book
The Good Fundamentalist, by John Killinger
ISBN: 978-1-887730-39-6
$19.95; 257 pp; 9 x 6 x 0.6 inches
Amazon: http://amzn.com/1887730397
Online: http://www.TheGoodFundamentalist.com
Video: youtube.com/drjohnkillinger