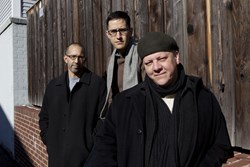 "The undefinable quality of charisma." - Steve Morse, The Boston Globe
Arlington, VA (PRWEB) February 12, 2014
The Grand Candy releases NSFW at IOTA Thursday, February 27th
"The undefinable quality of charisma." - Steve Morse, The Boston Globe
"John Hiatt meets Morphine." - Brett Milano, The Boston Phoenix
NSFW is the debut album from Arlington, Virginia based The Grand Candy. It was recorded at the famed Washington DC area Inner Ear Studios, and produced by the studio's founder Don Zientara (Fugazi, Bad Brains, Bikini Kill). NSFW is scheduled to be self-released Feburary 27.
With comparisons by the press to Dire Straits, Morphine, Chris Whitley, Jeff Buckley, and Elvis Costello, The Grand Candy are sure to be embraced by fans with a wide breadth of musical tastes. For listeners who choose to simply get lost in the swirling guitars and pounding percussion, there is ample room. For those who want to delve deeper, the path is there to ponder the vignettes that unfold from each song. Narrative songwriting that employs equal helpings of melody and dissonance, shadows and light: that is The Grand Candy.
The Grand Candy releases NSFW at IOTA
Thursday, February 27th 8:30PM
2832 Wilson Blvd,
Arlington, Virginia 22201
Daniel Cohn, Jonathan Babu, John Lee, and Jacob Chmara will be presenting the entire album along with some select other numbers.
Don Zientara opens
21+, $12
http://www.thegrandcandy.com
Frontman, Dan 'Pluto' Cohn, has the soul of a jazzer trapped in the body of a troubadour. Touring the East Coast behind his solo effort, 'Par Avion', Pluto's songs were roundly praised as 'Original' and 'Masterful.' The Washington Post's 'New Dylan' comparison went so far as to suggest that Pluto's classic songwriting hails from a different era. He is a fearless songwriter with a cunning ear for melody. Jon Babu is a brilliant, sensitive musician and a ferocious drummer. These two, together with their clever contributors, mix and match various genres according to their ever-changing moods.
For more information or to schedule an interview with The Grand Candy please contact Melissa Zeigler at melissa(at)powderfingerpromo(dot)com.
Powderfinger Promotions–Independent Radio Promotion and Publicity. Since being founded in October 1994, Powderfinger has come to be regarded as a top indie radio promotion and publicity firm with ties across North America.