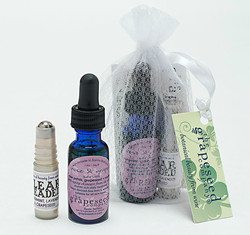 ...relax, unwind and get your skin glowing!
Santa Barbara, CA (PRWEB) August 19, 2014
Santa Barbara-based The Grapeseed Company (http://www.thegrapeseedcompany.com) will participate in GBK's Gift Lounge honoring the Primetime Emmy Nominees and Presenters, in association with The Artisan Group®, where its Clear Skin and Mind Gift Set will be gifted to members of the press stopping by The Artisan Group exhibit. The by-invitation-only Gift Lounge takes place August 22-23 at an exclusive location in Beverly Hills, California.*
The gifted travel-size duo ($32.00 at thegrapeseedcompany.com) includes a 1 oz. Rose & Grape Serum and a .25 oz. Clear Headed Roller Treatment. Rose & Grape Serum is an all-time The Grapeseed Company favorite, perfect for targeting pesky lines on any skin type. Clear Headed is a new, natural way to relieve a cloudy head; just roll on pulse points at the wrists and temples.
The Rose & Grape Serum is a luxurious, rich 100% plant-derived serum formulated to feed delicate facial skin. Antioxidant rich organic rosehip and grapeseed oils are blended with hydrating jojoba and healing carrot seed to help diminish fine lines and wrinkles, promote cellular renewal and rejuvenate dehydrated, aging and sun-exposed skin.
Clear Headed Rollerball Treatment, with peppermint, lavender and grapeseed, has a cooling metal rollerball to apply the relaxing, essential oil blend to pulse points. Offering wonderful aromatherapy benefits, Clear Headed is a great antidote for stress and headaches, and enhances deep breathing moments.
"This is an amazing organic skincare set that lets you relax and unwind and get-your-skin-glowing," noted The Grapeseed Company founder and CEO Kristin Fraser. "We think it will be perfect for celebrities dealing with the bustling award season in Hollywood."
The Clear Skin and Mind Gift set is vegan, paraben and gluten free and tested on people, not animals.
The Grapeseed Company organic skin care, hair care and home ambiance products are handmade in small batches from antioxidant rich red wine grape seeds and skins upcycled from the byproduct of the local California wine industry. The Grapeseed Company also offers an eco-friendly pet care line, Dirty Dog Organics, formulated with strictly natural ingredients and free of parabens, sulfates and phthalates.
Founded in 2004, The Grapeseed Company is the first U.S.A. based company to take local wine waste and turn it into natural, anti-aging skin care products. In 2013, it received Savor The Success's Fastest Growing Company of the Year award.
Kristin is acknowledged for her innovative approach to creating skincare products and has been featured on MariaShriver.com as an "Architect of Change." She recently spoke in Barcelona, Spain, at the largest cosmetic conference in the world, about creating a niche business in the beauty industry.
The Grapeseed Company team operates a retail store in downtown Santa Barbara, California, along with a wholesale business that supplies spas, Whole Foods and other high end retailers. The company has been featured in The Wall Street Journal, Health Magazine, LA Times, Vogue and others. Read more The Grapeseed Company press.
To learn more about The Grapeseed Company, contact Kristin Fraser by email. Follow the company on Facebook (FB.com/thegrapeseedcompany), Twitter (@grapeseedco), Instagram (@grapeseedo), and Pinterest (@grapeseedco). View its 2014 catalog here.
For press inquiries regarding The Artisan Group, visit theartisangroup.org.
*This event is not affiliated with the Primetime Emmy show; The Grapeseed Company is not in any way affiliated with the Academy of Television Arts & Sciences.
ABOUT THE GRAPESEED COMPANY & KRISTIN FRASER
Kristin Fraser is the founder and CEO at The Grapeseed Company (http://www.thegrapeseedcompany.com) creating botanical beauty from wine made fresh in Santa Barbara, California. The Grapeseed Co.'s bath & body products are made from the finest quality natural and organic ingredients to feed the skin. Every product created by The Grapeseed Co. is paraben and sulfate free and fragranced with intoxicating blends of pure essential oils and fruit and plant essences.
The Grapeseed Company's niche products and unique business model have been featured in The Wall Street Journal, Health, The LA Times, Shape, Women's Health, Edible Magazine and more.