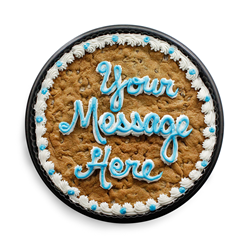 We are excited to offer our loyal customers a fresh new mobile web experience and an expanded product line at truly competitive prices.
Baltimore, Maryland (PRWEB) February 26, 2014
The Great Cookie (TGC Foods, Inc.), a popular Baltimore, Maryland based cookie company, today announced the launch of a brand new website that allows customers to purchase fresh baked cookies and 13-inch personalized cookie cakes online at http://www.thegreatcookie.com.
The mobile friendly website has a modern design and shopping cart that showcases The Great Cookie's popular Custom Cookie Cakes at a competitive price of only $29.95. Customers can choose from over thirty pre-designed cookie cakes for a variety of occasions or customize a cookie cake with a personalized message and colors of their choice. Each order includes a free greeting card with the customer's tailored message. The site also offers a delicious variety of fresh baked cookies including the world famous Snickerdoodle Cookie in one, two or three-pound tins as well as gift cards and other specialty items.
The website features an overview of the Company history, a store and mobile truck locator and a blog, "The Cookie Exchange" that will feature a variety of content from birthday party ideas to recipes and baking tips. The Great Cookie is expanding its brand presence and national footprint through the new website and social media platforms including Facebook, Twitter, Instagram and Google Plus.
Jason Fruman, President of The Great Cookie states, "We are excited to offer our loyal customers a fresh new mobile web experience and an expanded product line at truly competitive prices. The new website is a reflection of where The Great Cookie is headed as a brand with a focus on growth and building lasting relationships with our customers. We continue to be committed to growth in the Baltimore area with our local stores and mobile food trucks and are building our national business via our online platform and corporate partnerships."
The company recently appointed Jaime Elwood as Director of eCommerce and Business Development to grow its online brand presence and web strategy. Elwood was formerly the VP of Marketing and Director of Web Strategy for Medifast, Inc. where she contributed to the online growth and marketing strategy of multiple business channels. Elwood hired Drexler, a Baltimore based digital design firm to design and develop the new Great Cookie website on the Shopify eCommerce platform.
The Great Cookie is offering a sale on all Custom Cookie Cakes with 10% Off using the code C3C14. Custom Cookie Cakes are available in Snickerdoodle or Chocolate Chip for $29.95. Cookie flavors include chocolate chip, double peanut butter, oatmeal raisin, double chocolate fudge, almost heaven, butter crunch and the world famous snickerdoodle recipe.
About The Great Cookie:
The Great Cookie is a Baltimore based, locally owned and operated cookie company. The Great Company was founded in 1979 and is known for its one of a kind Snickerdoodle Cookie recipe and great tasting fresh baked Custom Cookie Cakes. The company operates out of headquarters in Owings Mills, MD and in 7 retail locations in the Baltimore area. The Great Cookie also delights the streets of Baltimore with two mobile cookie trucks that attend local events and roam the Baltimore area selling fresh baked cookies daily. The location of the mobile cookie trucks can be found on the website and on Twitter. The Great Cookie offers Custom Cookie Cakes and fresh baked cookies online at http://www.thegreatcookie.com.
Media Contact:
Jaime Elwood
The Great Cookie
jaime(at)thegreatcookie(dot)com
410-363-7701
About Drexler
Drexler is a Baltimore based design firm with a focus on digital. More information about The Great Cookie project may be found here. http://www.drxlr.com/work/great-cookie/