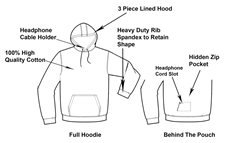 The world is but a canvas to our imagination — Henry David Thoreau
Toronto, ON (PRWEB) February 25, 2015
Northern Leisure Manufacturing has set out to create The Greatest Hoodie Ever! For months the veteran Canadian manufacturer has been developing and refining the concept using various styles of fabrics and trimmings and are finally ready to unleash to their global vision. The Greatest Hoodie Ever is made up of 100% High Quality Cotton. This unisex hoodie is in a heavy 19oz pre-washed soft and supple fleece, with a 3 piece lined hood and heavy-duty rib with spandex to retain its form. Northern Leisure has designed an innovative hidden pocket behind the pouch with a sleek zipper to store valuables. In addition, they have added a headphone cable slot in the back of the zip pocket alongside a headphone cable holder at the bottom of the hood. These features promise the ability to go for a run, jump, skip or hop without losing any valuables all while listening to some tunes!
As a reputable Canadian manufacturer with over 25 years experience, Northern Leisure has worked with a plethora of brands and designers to manufacture different quality garments at their Toronto manufacturing facilities. This is the first time they have ventured into making a product that is identified with them by removing the middleman. They are taking this experience to create The Greatest Hoodie Ever and are using KickStarter as a means to accomplish their goal. Northern Leisure is the manufacturer and is rewarding their backers with manufacturer direct pricing.
Northern Leisure is looking to raise $100,000 in order to kick start the manufacturing process.