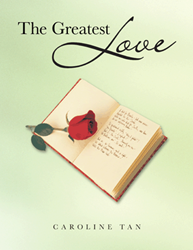 Malaysia (PRWEB) June 06, 2014
Author Caroline Tan believes that, "We as human beings are born into this world many times to complete our workbook of life. Every one of us, without any exception will go back to the next world after we complete our life span in a few decades; and we should realize that after we die, our souls will travel back to the next world." Knowing this, Tan suggests that humans have to learn to live their lives to the fullest and learn to achieve enlightenment before going back to man's 'true home.'
Since people are given a great opportunity to learn and to achieve the best in this world, they should be grateful and they should have the courage to live and love their lives to the fullest. Tan also exerts that humans should practice the love that gives rather than the love that takes.
Through this book, Tan shares the teachings of Happy Science, helping readers to have a firmer grasp in their lives and enlightening them on how they can achieve happiness in their everyday living — the kind of joy and contentment that is only attainable when one knows what "The Greatest Love" (published by Trafford Singapore) is.
"The Greatest Love"
By Caroline Tan
Softcover | 8.5 x 11in | 36 pages | ISBN 9781490703459
e-book | 36 pages | ISBN 978149070344
Available at Amazon and Barnes & Noble
About the Author
The author's real name is Tan Mek leng; and Caroline was the name given by her godmother when she was younger. Tan came from Kelantan, West Malaysia, and she went to Teacher's Training College in Kuala Lumpur after her secondary school, where she graduated in 1981 and received her Master's degree in 1984. She was awarded Doctor of Philosophy in Modern Languages, University Malaya, in 2004. Tan became a retired teacher in 2011; and she currently works at Happy Science Malaysia as lay lecturer since January 2013.
Partridge Singapore is a partnership between the Penguin Group, the world's foremost trade book publisher, and Author Solutions LLC, the industry leader in supported self-publishing, that aims to help writers in Singapore, Malaysia, and the rest of Southeast Asia become published authors. Partridge Singapore gives authors in the region direct access to a comprehensive range of expert publishing services that meet industry standards but are more accessible to the market. For more information or to publish a book, visit http://www.partridgepublishing.com/singapore or call 800 101 2657 (Singapore) or 1 800 81 7340 (Malaysia). For the latest, follow @PartridgeSG on Twitter.
###