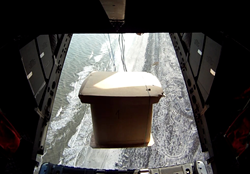 Governments have been searching for an aerial firefighting system that is effective, affordable, and flexible.
Fresno, California (PRWEB) May 19, 2014
The certification of the Guardian firefighting system on the Alenia Aermacchi C-27J Spartan helped Peru's Minister of Defense, Hon. Pedro Cateriano Bellido, in the decision to purchase two additional aircraft. He explained that the choice of the C-27J comes from the unique characteristics of the aircraft, which will allow it to operate in the particular scenario and territorial topography of Peru, but also by the possibility of use in missions civil protection, fire protection, humanitarian assistance and medical evacuation. Wildfires have long been a concern of Peru and its neighbors. The impact of this year's wildfires in South American has heightened the need for a flexible multi-mission aerial firefighting capable fleet.
Caylym's Guardian aerial firefighting system was tested and certified by Alenia for the C-27J last year in the EU. This certification has added an important mission capability to the Spartan's already impressive resume. The Guardian aerial firefighting system can be loaded and deployed without any modification to C-27J as well as most other cargo hauling aircraft like the Lockheed Martin C-130.
"We knew that the certification of the Guardian by Alenia would open up new opportunities for the Spartan. We are confident that the work we have done with Alenia will equip the C-27J Spartan as an effective resource in the world of aerial firefighting," said Rick Goddard, Managing Director of Fresno based Caylym Technologies International.
"Governments have been searching for an aerial firefighting system that is effective, affordable, and flexible," said Garrett Miller, head of sales and marketing for Caylym. "What makes the Guardian a valuable aerial firefighting system is that there are no airframe modifications needed in order to employ a common rear-loading cargo aircraft as a modern water bomber potentially 24 hours a day. Plus, once the mission is complete the aircraft is ready for a cargo mission such as med-evac or emergency resupply."
Miller continued, "Based in California and seeing the drought conditions here first hand, we sense the critical nature of this fire season globally. This year already wild fires have already devastated parts of California, Australia, Chile and Indonesia. The adoption of the Guardian system by Alenia for the C-27J marks a big step towards providing a safe, cost effective, solution that every country operating the Spartan can employ. Alenia was the first, however, we are currently making plans with two other aircraft manufacturers in order to have the Guardian approved on their cargo planes."
The Guardian is a unique patented corrugated paper based liquid bulk container which can hold over one ton of water or retardant. These recyclable boxes are then loaded into common cargo aircraft with a rear ramp and dropped over fires using standard US Air Force Container Delivery System (CDS) protocols that the military has been using for decades. When the boxes exit the aircraft they descend and then open at a lower altitude to release the liquid contents in an overlapping pattern creating an instant soaking rain cloud. The C-27J Spartan can carry six Guardian units (1,584 gallons) and the C-130 Hercules can carry sixteen (4,224 gallons). These types of cargo planes can be immediately placed into action because there are no modifications required to the aircraft to accommodate and safely deploy the Guardian system.
"I have seen the devastation that wildfires can have on individuals, communities, and our wildlife," said Goddard. "The Guardian system was engineered and designed to provide a much needed boost to the world's efforts to support our firefighters. Used in concert with and complementing the existing tanker fleet and ground crews we at Caylym believe that a new chapter in wildfire fighting will be established."