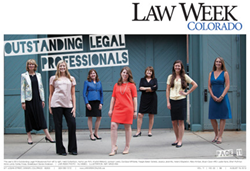 It's been an honor to work for Colorado's largest and best family law firm for the last 8 years.
Denver, Colorado (PRWEB) September 19, 2013
Each year, Law Week devotes an issue to the group of people who help attorneys look their best — those legal professionals who provide marketing, business development, paralegal and other support day in and day out. This year's group included two marketing professionals, one business development leader, a statistician, two paralegals and a pro bono coordinator. It's an impressive (and all female) class of honorees.
Law Week Colorado Recognizes The Harris Law Firm's Marketing Director as one of the Outstanding Legal Professionals for 2013. Heidi Culbertson, Director of Marketing and Client Development, at the far left, and her colleagues appeared on the cover of Law Week Colorado's August 20th issue.
Heidi has worked for The Harris Law Firm since 2005.
About the Harris Law Firm:
Established in 1993, The Harris Law Firm is Colorado's largest family law firm with offices in Denver and Fort Collins. The firm now employs a team of 19 skilled attorneys. In addition to divorce and child custody and child support issues in Colorado, The Harris Law Firm also handles issues regarding maintenance, paternity, grandparents' rights, and step-parent adoptions.
For more information on The Harris Law Firm, including articles written by our family law attorneys, please visit our website.