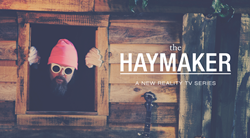 The Haymaker takes you on an emotional adoption reunion, a weight loss journey and image transformation, recording sessions with stars and high profile business developments in the entertainment industry.
Los Angeles, California (PRWEB) March 24, 2015
Jonathan Hay has just been called a "pr mogul", "public relations guru" and "pr maven" by the International Business Times. Hay has been featured in such pop culture mainstays as Billboard Magazine, TMZ, Radar Online, Perez Hilton and many more. The multi-platinium music industry executive is now entering into the Reality TV show business, a decision Hay made after being contacted by a subsidiary of All3Media for a show called The Haymaker. The Haymaker is about swinging punches at the entertainment industry, weight loss and image transformation, fighting controversy, and much more. For the first time in his life, the 41-year-old will meet his birth parents who were forced to give him up for adoption when they were teenagers, which will all unfold on the show.
"The first time I ever spoke to my birth father was on the phone late last year on our way to meet up with Kxng Crooked who was taking us to Eminem's studio in Detroit," said Hay. Jonathan Hay was a co-executive producer for the Shady Records/Slaughterhouse member's album, Sex, Money and Hip-Hop. Hay was also a producer and co-songwriter on a few of the songs, and had a heavy hand in the publicity, marketing and distribution of the album. "That album with Crook will always be special to me," Hay added. "Which is one of the reasons I was happy for it to be released on my birthday, December 16th, because this past birthday was the first one I've had where I actually knew my birth parent's names and was no longer paralyzed by the mystery." Hay will meet his birth mother and father for the first time on camera in what will undoubtedly be an emotional reunion. Brothers, sisters, cousins, aunts and uncles will gather to greet him this year in the areas of Cleveland, Ohio and Orlando, Florida where his two birth families reside.
This isn't Hay's first taste of reality television. In late January 2015, Hay filmed two episodes of an upcoming reality show with hip-hop stars T.I., DJ Drama, RZA and Sway Calloway. In 2014, Hay was partners in a show that was signed by Roberto Cardenas of 90 Miles Productions, a company responsible for America's Top Model, Laguna Beach, Joe Millionaire, and Paris Hilton's My BFF. "Honestly, I never wanted to be in the reality show business, especially being one of the main subjects of the show," Hay continued. "I always felt like it could pigeon hole me in the entertainment world, and maybe even hinder me from crossing over into music production. I didn't want that reality show stigma for my music."
Hay let his music production ambitions known when he stated to The Source Magazine, "Right now, being ten years later, I want to produce a song for Rihanna. Ten years from now, I want to be writing about the song that I produced for Rihanna ten years earlier." The Haymaker will highlight Hay's time working in the recording studio trying to make a hit record.
Other than Orlando and Cleveland, other filming locations will include Louisville, Kentucky, Charlotte, North Carolina, Atlanta, Georgia, New York, New York, Houston, Texas, Los Angles, California and South Bend, Indiana, where Hay will be married for the first time to his longtime best friend and fiance. "The only reason I agreed to do the show was because it will contain an element of comedy and satire. I imagine it to be like a Big Lebowski type of reality show. Whatever it is, it will be completely different from anything else you've seen."