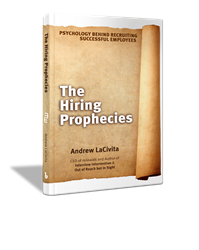 This book will make you rethink your approach to hiring.
Park Ridge, IL (PRWEB) September 15, 2015
Employers continue to struggle with recruiting and retaining the best employees thanks to the current attention-deficit-disorder and loyalty-free employment market.
In his third book, The Hiring Prophecies: Psychology behind Recruiting Successful Employees, Andrew LaCivita shares a statistically unparalleled recruitment methodology he developed based on a ten-year study his company milewalk conducted. The study, which included more than ten thousand employees and two hundred companies, solved the mystery as to why employers have difficulty hiring and retaining top talent. The book highlights the hidden reasons and shows organizations how to overcome the challenges and better position themselves during their recruitment processes.
"It won't surprise many that a job candidate's corporate cultural fit and individual capabilities are key components to ensuring long-term employment success," LaCivita says. "Being aware of this and effectively evaluating it during a recruitment process, however, are completely different issues. What many will find eye opening are the elements related to the job candidate's often-faulty decision-making approach, short-term emotional issues, and external influencers, facets the employer typically overlooks. Realize that successful recruitment can only be confirmed in hindsight when you're able to evaluate the retention and contribution that hire has on an organization. Job candidates who effectively manage their decision processes are best positioned to make thoughtful career choices they can live with long-term."
The Hiring Prophecies: Psychology behind Recruiting Successful Employees
By Andrew LaCivita
ISBN: 978-1-5043-3182-1
Hardcover, retail price: $33.95
Available through http://www.amazon.com and http://www.barnesandnoble.com
About the author:
An International Top 100 Executive Recruiter, author, and inspirational speaker, Andrew LaCivita is the founder and chief executive officer of milewalk, a prominent Chicago-based executive search firm. He has dedicated his career to helping people and companies realize their potential, consulting to more than two hundred organizations and counseling more than eleven thousand individuals. He is a trusted media resource and author of Interview Intervention, Out of Reach but in Sight, and The Hiring Prophecies.
For more information, visit http://www.milewalk.com and http://www.andrewlacivita.com
**FOR IMMEDIATE RELEASE**
EDITORS: For complimentary review copies or interview requests, contact:
Kara Dziedzic
kdziedzic(at)milewalk(dot)com | 312-498-5596
Media Kits can be found here.
When requesting a review copy, please provide a street address.