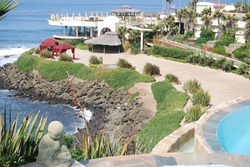 Without our help, Lindsay Lohan and countless others like her, will continue to serve a lifetime sentence of emotional imprisonment and physical collapse – thanks to an absurd 'Too Big to Fail' form of rehab – which preserves the status quo.
Los Angeles, CA (PRWEB) August 12, 2013
Based on accounts from the Atlantic Wire that Lindsay Lohan, who just completed a 90-day drug rehabilitation program and then spent a late night out in Los Angeles with a member of the band The Wanted, and was reportedly "helped out of the bash by security at 7 A.M.," The Holistic Sanctuary invites Ms. Lohan to avoid any further pain and emotional agony associated with the relapse-to-rehab carousel of destruction, and heal her brain – and thus permanently end addiction – by enjoying the customized care of our expert professionals.
Dr. Patrick Wanis, a human behavior expert, draws a similar conclusion about Lohan's problems, telling Fox News: "Exposing and immersing Lindsay in the temptations of Hollywood and further encouraging her to exaggerate her extreme personality and vulnerability on television will only help send her back into the addiction she is trying to break free from. This is just driving the public's insatiable thirst for Lindsay's personal life, which has completely overtaken her acting career, and helped destroy it."
To further illustrate the gravity of this situation and the failure of conventional drug treatment centers, Oprah Winfrey met with Lohan to discuss these topics. In the preview of an interview set to air on August 18th, the talk show host asks the 27-year-old starlet, "Are you an addict?" and "What does it feel like to be both an adjective and a verb for child star gone wrong?"
The issue is no longer whether, after at least five visits to traditional rehab centers, two arrests in 2007 for driving under the influence (DUI) and having her probation revoked four times, as well as failing (in 2010) a court-ordered drug test and not completing her community-service obligations, she is an addict. She has also been jailed six times, and spent 35 days under house arrest, making her the ultimate example of why conventional drug treatment centers do not work. These facts, as compiled by The Daily Beast and Newsweek, offer a damning summary of the expensive, both emotionally and financially, toll exacted by these facilities.
In contrast, The Holistic Sanctuary has the resources, insight, wisdom and customized care necessary to heal Lindsay Lohan – to give her a second chance at the personal health she deserves and the professional opportunities she can pursue – provided she avoids the conventional rehab centers, which continue to leave her vulnerable to exploitation by the media, temptation among fellow addicts and dependency of prescription medications, which have severe (often irreversible) side effects, such as: permanent liver damage, heart palpitations, manic episodes, suicidal thoughts, hypertension, dizziness, difficulty breathing, gastrointestinal distress, joint pain and the risk of pancreatitis.
As a premier holistic drug rehab center, secluded amidst the majestic foothills and positive energy of a pure and sustainable ecosystem, alongside breathtaking views of the indigo water of the Pacific Ocean and the serene coastline that borders our luxurious 5-star accommodations, we can heal Ms. Lohan – and others with the same challenges – with safe, exclusive, proprietary, all-natural and personalized treatment modalities.
These one-of-a-kind opiate addiction treatments and detox programs repair and rejuvenate the brain. "Without our help, Lindsay Lohan and countless others like her, will continue to serve a lifetime sentence of emotional imprisonment and physical collapse – thanks to an absurd 'Too Big to Fail' form of rehab – in which courts, prosecutors, physicians and patients preserve a broken, unsuccessful, immoral, highly ineffective, dangerous, physically debilitating and potentially lethal status quo. After multiple arrests, repeated rehab visits, incarceration and rounds of attack therapy, it is time liberate Ms. Lohan from this reprehensible system," says Johnny Tabaie, Founder of The Holistic Sanctuary.
The Holistic Sanctuary also has incontrovertible proof – undeniable evidence – to demonstrate the consistent and superior success rates of its approach versus the toxic tactics used by conventional rehab centers: brain scan of healed patients, where areas previously damaged by addiction are now healthy and vibrant.
About The Holistic Sanctuary
The Holistic Sanctuary is the home of the exclusive, all-natural and proprietary Pouyan Method, which enables patients to permanently end a variety of addictions. Unlike conventional drug and alcohol rehabilitation centers, which have rates or failure or relapse among patients, The Holistic Sanctuary offers a customized protocol with the amenities of a 5-star resort. We seek to stop addiction without prescription medication or the use of 12-step programs. Nor do we classify patients as victims of an incurable disease. Our therapies focus on healing the brain, so a patient can heal their life. For more information about our innovative techniques, founding principles and testimonials from former patients, please visit http://www.theholisticsanctuary.com.