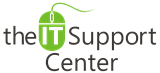 WEST CONSHOHOCKEN, PA (PRWEB) September 24, 2021
In response to the increase in customer growth, theITSupportCenter has expanded its senior management team.
We are excited to announce the following additions and welcome the insights and experience they bring to the team and our clients:

Jack Whelan (UT McCombs MBA '21)
Kent Shen (Michigan Ross MBA '21)
Ross Jaffe (NYU Stern MBA '21)
New Hybrid Work Support Demand
Over the last 18 months, as individuals learned to do everything from home, organizations learned how to operate with a distributed workforce. New IT support dynamics and needs popped up almost overnight. Just as organizations settled into the new Work-From-Home norm, employees started transitioning back into the office. Now, most organizations are dealing with a hybrid work environment where some employees are in the office, some are at home, working extended hours at various places throughout the day and week.
These shifts have introduced a new mix of IT support challenges for organizations' IT Service Desks to keep end users online and productive. In turn, support needs have been driven higher than ever before. More organizations than ever recognize that a robust, flexible and responsive IT support arrangement is the backbone of productivity for their businesses.
theITSupportCenter, a leading provider of IT Service Desk support, has worked closely with its clients, both long-standing and new, to navigate such hybrid work arrangements, and has experienced significant growth as a result of its commitment to client needs and being a trusted partner throughout these transitions.
About theITSupportCenter
Founded in 2005 by IT professionals with over 40 years of experience, theITSupportCenter sought to bring change to the IT Help Desk industry and improve corporate client efficiency. Our unique approach to support has resulted in theITSupportCenter becoming the leading provider of remote IT Help Desk Solutions. theITSupportCenter supports over one million end-users through the use of an innovative infrastructure and thoughtful focus on the end-user experience. With support centers across the United States, theITSupportCenter follows the sun to provide world-class IT support 24x7x365 to empower employees where and when they need it, and peace of mind to corporate IT departments knowing their end users are covered.