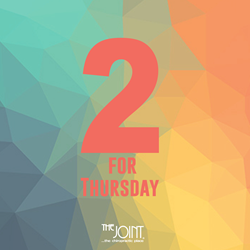 New patients are encouraged to contact The Joint St. Louis chiropractic offices for their first appointment to take advantage of this special offer.
Saint Louis, MO (PRWEB) July 28, 2015
Headaches are the number one neurological ailment affecting people in the United States, and back pain comes in as a close second. Clients suffering from headaches and back pain often find relief by seeking regular treatment from a licensed chiropractor. To help clients get started with chiropractic treatment, The Joint's nine offices in the St. Louis area welcome new clients to try the introductory visit price of $19. This offer includes a confidential consultation with a licensed chiropractor, an exam, and a spinal adjustment. Now through the end of the year, The Joint St. Louis invites clients to bring friends and family with them on Thursdays to take advantage of the "2 for Thursday" special.**
Why Chiropractic Care
Chiropractors are physicians who practice a form of comprehensive medicine, treating the whole patient to improve his or her overall health and wellness. This includes assessment of any irregularities in the spinal column and improving spinal health through targeted adjustments and other chiropractic techniques. Typically, patients find relief from recurring headaches, lower back and other kinds of pain through regular spinal adjustments.
Health Benefits
Chiropractors work diligently to bring the health benefits of chiropractic medicine to local patients and visitors. They identify and address problems in the spine that cause patients to feel pain in their head, neck, back, shoulders, and legs. Such pain may be caused by a spine that is not in alignment or many medical conditions. The Joint's chiropractic care services are non-invasive and drug-free, sparing patients the harmful side effects of many Western medical treatments.
Get Started
No appointment is necessary. Walk-ins are always welcomed at The Joint's nine locations in and around St. Louis:
The Joint Chiropractic Arnold
The Joint Chiropractic Chesterfield
The Joint Chiropractic Clayton
The Joint Chiropractic Cottleville
The Joint Chiropractic Creve Coeur
The Joint Chiropractic Des Peres
The Joint Chiropractic Glen Carbon
The Joint Chiropractic Shiloh
The Joint Chiropractic Sunset Hills
**Offer valid at any of the 9 St. Louis area locations of The Joint Chiropractic. Free adjustment redeemable for new patients only. Initial visit includes consultation, exam and adjustment. Medicare Rules Apply. No cash value, not valid towards past purchases. Good through 12/31/2015.