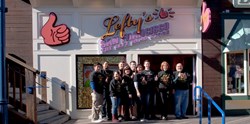 This is a repeat purchase! I bought one for my daughter on a whim and she absolutely loves this product so much that she asked me to buy another one for her second semester at school. Thanks Lefty's, we'll be back. Mom and daughter lefties.
San Francisco, CA (PRWEB) January 30, 2014
Lefty's The Left Hand Store's reviews top 500 for 2013 as customers rave about thelefthandstore.com's products and services. 9 out of every 10 customer reviews give it 5 stars.
Customers write frequent reviews extolling the store's service and unique products. Multiple punctuation marks and capital letters emphasize the how thrilled these customers are to find a store just for left-handed products.
"Arrived promptly despite my late order. Works fine. South paw son is delighted. I'll keep you in mind for his July birthday plus future Christmases. THANK YOU for filling this important, but overlooked, niche. Thrilled that I found you!!!!!!"
Since June, 2011, 1307 of thelefthandstore.com's customers have written reviews of their products and experience with the store. Available to read under each product on the site, these reviews are overwhelmingly positive, usually 5 stars.
Thelefthandstore.com fills an important niche. With far and away the largest and best selection of left-handed products in the world, the site helps lefties with lifelong difficulties. Most left-handers have no idea that products other than left-handed scissors exist, so finding the site can be very exciting.
Left-handed can openers, notebooks, portfolios, tape measures, and left-handed pens are some of the biggest sellers, aside from left-handed scissors. But there are also left-handed corkscrews, cooking utensils, rulers, pencils, playing cards, watches and dozens of other items that cause lefties problems in a world designed for right-handers.
Thelefthandstore.com's policy is to ship every item within 24 hours, (Sunday - Thursday) or by the next day pickup is available. Fully a third of the customer comments include kudos for the fast service.
Visit thelefthandstore.com's brick and mortar stores at Pier 39, San Francisco, at The Marketplace, Downtown Disney, Walt Disney World Resorts in Orlando, and at Old Town Kissimmee, FL.