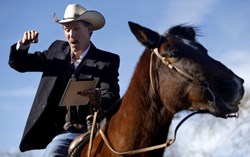 Whether it's read by ink or electrons, the message of The Legacy Letters is still timeless.
Tucson, AZ (PRWEB) January 21, 2014
Author Carew Papritz, dressed as the working cowboy he still is, rode his horse to the front of the Tucson Barnes & Noble where a waiting crowd greeted him. Papritz then pulled an iPad from his saddlebag, and, in a crowd-rousing countdown, digitally "signed" his book, The Legacy Letters, and uploaded from it the saddle. Publishing history was made.
Through the act of uploading his actual signature to the title page of The Legacy Letters, Papritz created publishing history by becoming the first ever independently-published author to digitally sign an e-book.
While still atop the horse, Papritz then signed hardcover copies of his book for the crowd. "I loved the idea of introducing the book to the world with a magic mixture of the modern and the traditional." (Personal history was also made for Papritz. His horse, Boots, was the same horse he was married on 14 years earlier.) "The Legacy Letters is a timeless book for modern times," says Papritz about his book. "Whether it's read by ink or electrons, the message of The Legacy Letters is still timeless."
Papritz began writing The Legacy Letters at night by kerosene lantern on the back of his pickup while he worked stringing fence line during the day on a remote Southwestern ranch. "There was the fence, the stars, and a lot of aloneness--the perfect combination for writing a book about life."
Inspired by such books as Tuesdays with Morrie, The Last Lecture, and The Notebook, Papritz's debut novel reveals, through personal letters, the stories, memories, and music of a dying father, which ultimately becomes the practical, moral, and spiritual gift and guidebook for his children he'd never live to see, and for his wife, his redemptive story of love.
"This is an underdog book that a lot of people are cheering for," says Papritz of the attention The Legacy Letters has been receiving. Papritz has been a guest on ABC's talk show, Let's Talk Live in Washington D.C., and has received critical acclaim from Kirkus Reviews and The Huffington Post, who called it, "A Must-Read Book of Wisdom for Life…exquisite, intimate, passionate, humorous, and genuine…" The book is also a finalist in the USA Best Book Awards.
Papritz is currently on a multi-city book signing tour. For more information, visit http://www.thelegacyletters.com. And watch the first-ever e-book and book signing on horseback now (http://youtu.be/aKEsxqmzs9g).