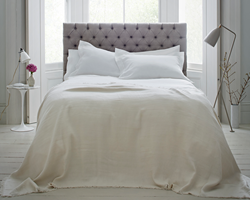 "We simply had to add this beautiful Irish bedlinen to our range. For discerning customers looking for something really special, they need look no further - this is it." - Marina Guirey, Creative Director of The Linen Works.
London, England (PRWEB UK) 9 September 2014
Quality of Irish linen is unsurpassed featuring a finish that is soft and smooth to the touch. To be considered 'Irish linen', the fabric must be woven with 100% linen yarns using Irish craftsmanship and weaving skills in Ireland.
Although the flax is now grown in France and Belgium, it is still woven and finished today in the same traditional areas of Ireland, by descendants of those who have passed down the skills learned over hundreds of years.
As experts in linen, Irish Bedlinen is ultimate luxury. The quality has to be seen to be believed. The premium range is priced from £60. Available on The Linen Works website starting October 2014.
About The Linen Works:
Founded in 2010, The Linen Works specialises in quality linen for the home in soft muted tones with a simple, understated aesthetic. Founder and Creative Director, Marina Guirey, has an undeniable ability to design 'edited luxury' that is relevant to the modern consumer.