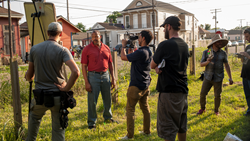 Few stories come along that promise to make you proud as a filmmaker and can actually do something like building a park.
New Orleans, LA (PRWEB) July 05, 2014
"It started a block away from my house."
Fourteen months ago, New Orleans independent filmmaker, Russell Blanchard, got more than he bargained for when he stopped for lunch at Baakir Tyehimba's Blackstar Caffe. "Baakir told me a story about the vacant lot across the street. He'd started to turn it into a playground with the neighborhood kids, but they had to quit working because their fence posts didn't meet a historical building code. That haunted me for a few days, so I decided to write something about it."
A year later, that story has blossomed into 'The Lot', a short film Blanchard will direct on location in his neighborhood later this July. Once finished, Blanchard plans to use the film as part of a crowdfunding platform to purchase the lot and finish the playground.
He won't be alone. Inspired by Blanchard's idea, collaborators from places as far away as Chicago, New York City, and California have volunteered to help shoot the locally cast film. "Few stories come along that promise to make you proud as a filmmaker and can actually do something like building a park," says Megan Grogan, a producer who put her career in Chicago on hold to spend the last three months volunteering full-time to get 'The Lot' locked for production. "I have friends and family that think I'm crazy, but this is the kind of film you look for and want to be part of as an independent film producer."
The Lot's Kickstarter campaign suggests that others feel the same. Five days into his crowdfunding initiative, Blanchard has good reasons to feel excited. "We've had an awesome initial response from our support network. There's people from L.A., Australia, even Thailand interested in the film. Some donors we've never even met. I'm super inspired to keep grinding toward our goal and get the ball rolling on our bigger plan to build a playground for the community. It feels good, really good."
For more information about 'The Lot', visit the film's Kickstarter page by searching for "The Lot Kickstarter" on your favorite search engine!
About Russell Blanchard:
Blanchard is a New Orleans-based filmmaker with a BA in Film Production from the University of Hawaii's Academy for Creative Media. His films have screened and won awards at festivals in Shanghai, Honolulu, Riverside, and New Orleans. Blanchard is founder of LOCOfilm, an independent film collaborative "that reflects the power of a locomotive and how, when something powerful gets rolling, it's impossible to stop."
For more information on Russell Blanchard and LOCOfilm's core group of collaborators, visit http://thelotfilm.com.